Cartel in fruits wholesale: Papaya farmer's joy turns into despair
September 21, 2020 | 8:40 pm&nbsp&nbsp&nbsp&nbsp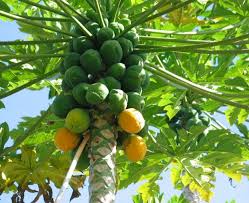 Gyanu Pangeni / Kawasoti, Sept. 21: Papaya trees in the orchard are full of bunches.
Such a good harvest should have been a great source of happiness for a person who dreamt of carrying out revolution in agriculture in one's motherland instead of pouring one's youthful energy and sweat in foreign land for money.
But Meghraj Shrestha of Ratnapur, Madhyabindu Municipality-3, in Nawalpur district (east Nawalparasi), who owns a big papaya orchard, full of bunches, spread in over 15 Bigha of land has now become desperate.
He indeed was happy seeing the papaya tree producing fruits as he hoped. But now, when the fruit is ripe and it needs to be sold to the market, his joys have turned into despair.
He could not sell his papaya in the market due to cartel among the fruit wholesalers.
Shrestha shared his distress that he bore a loss of Rs. 25 million in the first lot of the production.
Main market of the papaya is Kathmandu. And when the wholesaler in Kathmandu told him that they could not purchase his papaya he was at a loss.
"Merchants in Kathmandu were importing papaya from India. I contacted them and they said could not buy my papaya because it was cheap in India but expensive in Nepal. I was at a loss," Shrestha said.
He said both of his investment and hard work went in vain after the fruit wholesalers in Kathmandu rejected his offer of a low price and delivery to Kathmandu free of cost. Shortage of fertilizer and pesticides due to COVID-19 lockdown had also affected papaya production. "I suffered a heavy blow."
So far, after repeated request on my part, I have been able to sell three ton of papaya at a lower price, Rs. 60 a kg. I threw away a lot of ripe enough papaya as they started to decay. I am worried I may have to depose of the other remaining," Shrestha shared his worry.
He expected about 200 tons would be produced from his orchard. "But now, as there is no market for my produce, I am getting restless."
Shrestha who worked abroad for a long time established Madyabindu Agriculture and Forest Conservation Centre last year and started papaya farming investing about Rs. 10 million in order to implement his skill learnt abroad and secure prosperity through agriculture.
He planted Thai Red lady 6 and Red lady at species of papaya for organic farming. This type of papaya starts yielding fruits within a year of plantation and it runs only for two years, according to Shrestha.
Now I am thinking about getting rid of papaya and starting some other thing as the market has been captured against Nepali production. I have informed concerned authority about the loss I have borne but there has been no response. Instead of encouraging farmers, even our complaints go unheard of, Shrestha expressed his suffering.