Govt. grants approval to educational institutions to conduct examinations
October 7, 2020 | 9:15 pm&nbsp&nbsp&nbsp&nbsp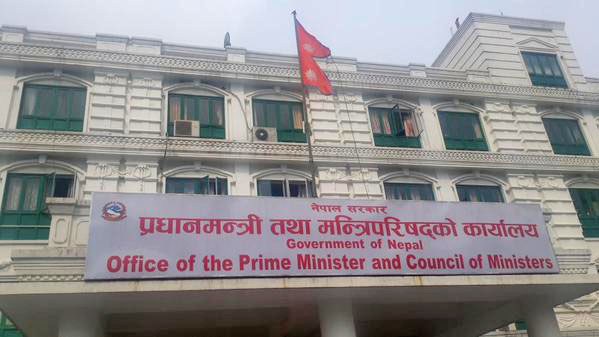 Lucky Chaudhary / Kathmandu, Oct. 7: Minister for Foreign Affairs and spokesperson of the government, Pradeep Kumar Gywali has requested everyone to opt for high alertness while celebrating Dashain and Tihar as the nation is still at high risk of COVID-19.
While publicising the decisions of the meeting of the Council of Ministers on Wednesday, minister Gyawali said, "Unless we are healthy, festivals can be celebrated next year too. I request everyone to save their Dashain blessings for the upcoming year."
"Around four million people are currently residing in the Kathmandu Valley. The worst situation waits for us if the risk goes out of control," said spokesperson Gyawali. "As the valley is in high risk, I appeal everyone to opt for high alertness while entering and exiting the valley."
Moreover, minister Gyawali said that the government has appointed Dr. Yogendra Kumar Karki as the Chairman and agriculture expert Binod Kumar Bhattarai as the executive director of the Kalimati Fruits and Vegetables Market Management Committee.
Likewise, the government has decided to give approval in principle to the schools and educational institutions of all levels and streams to conduct exams by fulfilling all the public health standards.
The government has also provided approval to the commercial training providing institutions to resume their training for only 25 participants at once.
"A recommendation committee will be formed in membership of vice-chancellor of Tribhuwan University and secretary of the education ministry in the coordination of the Chairman of Public Service Commission," said minister Gyawali.
The government has given the approval to resume the procedure of appointment of officials at the National Education Board, which had been postponed since April 26.
"Approval has been provided for temporary appointment of 16 officer-level employees in National Information and Technology Center, Kathmandu and Disaster Recovery Center, Hetauda for the fiscal year 2020/21," informed Gyawali.
He further informed that the temporary appointment of five officials in the Advertisement Board had been approved in the meeting for the fiscal year 2020/21.
The meeting of Council of Ministers was held on Monday, October 5.