RBTC launches campaign to collect plasma to treat COVID-19 patients
October 10, 2020 | 8:24 pm&nbsp&nbsp&nbsp&nbsp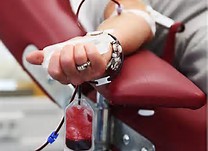 Chitwan / Oct 10: The Regional Blood Transfusion Centre (RBTC), Bharatpur, has launched a campaign to collect plasma required to treat COVID-19 patients. So far, 38 units of plasma have been collected, said RBTC Chief Ramesh Kanta Poudel.
Nepali Congress COVID-19 monitoring committee, Kawasoti, collected and sent 33 units of plasma to the Centre last Monday. Before that, five people donated plasma at the Centre.
On October 13, 14 and 15, Chitwan Chamber of Commerce (CCC) is collecting plasma from three places in the district on the occasion of its 70th establishment day, said the CCC President Dirgha Man Shrestha, adding that they expect to collect over 100 units of plasma. The demand for plasma is high in places like Kathmandu, Butwal and Bhaktapur, said Poudel. "All have shown interest in collecting plasma. This campaign could save the lives of many," he said.
Plasma therapy is a treatment method. As part of the therapy, plasma found in the blood of a person who has recovered earlier from the same disease is transfused into the blood of the new patient. RSS