CIAA launches probe into irregularity at COVID-19 hospital of BPKIHS, Dharan
October 13, 2020 | 9:29 pm&nbsp&nbsp&nbsp&nbsp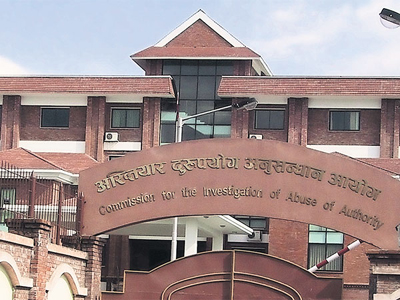 Dharan / Oct 13: The Commission for the Investigation of Abuse of Authority (CIAA) has launched a probe into an irregularity at the designated COVID-19 unit of BP Koirala Institute of Health Sciences (BPKIHS).
The anti-graft body began its investigation in suspicion of corruption as the newly-purchased ventilators started malfunctioning one after another in less than three months of their installation. Vice-chancellor of the hospital, Prof Dr Gyanendra Giri and his personal aide Dilip Bhattarai have been accused of purchasing substandard machines. The CIAA came into action following mounting pressures from the media and public.
The anti-corruption body on Monday sent a four-member squad to the institute to gather information about the overall scenario of the hospital and ventilators. The team also inquired about the hospital's infrastructures with Prof Dr Gaurishankar Shah, a director at the hospital. According to a source, the CIAA has sought certain documents of the hospital as well. Vice-chancellor Giri, however, was not available for comments since he has been in Kathmandu of late.
Director Shah also confirmed that the CIAA team visited the COVID-19 hospital and sought related information and documents. "We held discussions regarding the COVID-19 hospital and ventilators," he said.
The government had earlier allocated budget to the hospital to buy new ventilators in view of the rising number of COVID-19 cases. But now the hospital has been dragged into a controversy as three of the six ventilators installed at the hospital have stopped functioning. In recent days, the number of COVID-19 patients dying at the intensive care units and emergency wards of the hospital has been rising due to the lack of ventilators.
Talking to media, Itahari branch chief of CIAA, Prakash Poudel said that investigation has been expedited in response to the public grievances on substandard medical equipment which were purchased by the budget allocated by the federal and provincial governments.
It is suspected that the hospital administration installed old equipment without fulfilling the necessary procedures. It has been learnt that the supplier has not been paid yet as there is difficulty in bill verification.