Inspired by a picture in his school book, a man in Sunsari earns 3mln from fish farming
October 18, 2020 | 8:41 pm&nbsp&nbsp&nbsp&nbsp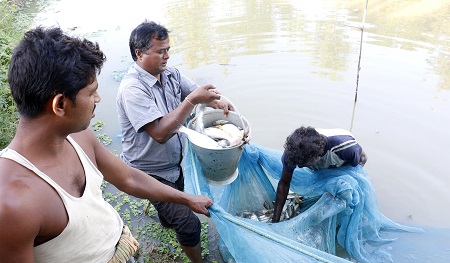 Jaya Krishna Yadav / Inaruwa, Oct.18: Shyam Sundar Chudhary, 50, a resident of Bhamari, Sunsari Rural Municiplaity-2, has been into fishing business for 28 years.
The fish farming which he started in the pond of two kathha of land has now turned into a business that yields him three million rupees a year.
Chaudhary started fishery in 1992 with local breed of fish and within a year he had pond made in two bigha and 13 kattha of land and used improved breed of fish for the business.
He started fishing by having ponds dug on the land that cost him Rs. 72,000 in total and the business had now become a boon for him.
Chaudhary, a resident of Sabik, Bhamari, had a weak economic condition.
Because of the difficulty in earning a living, Chaudhary, started fishery with observation of a printed fish on his grade 8 book.
He started raising fish of seven species including Rahu, Naini, Silver, Grasskar, Kamankar and Bhakur by buying additional one bigha and 18 kattha land along with his parents' land.
He didn't know anything about fish at the beginning, so, he started fish farming business with the knowledge of a book he read in 8th grade.
Now he is a successful farmer and is not limited to making a living.
He now produces not only fish but also fingerlings sells 20 million fingerlings annually.
Chaudhary produces a high quality baby fish in his pond and sells it to Sunsari, Morgang, Jhapa, Ilam, Saptari and neighboring India.
He sells high breed fish at Rs 700 to Rs 1,000 per kg and fingerlings at Rs 60 for 100 pieces.
Chaudhary now earns up to Rs 30 lakh with an annual turnover of Rs. 6.2 million.
He has been raising mother fishes and producing fingerlings to sell and has a plan to increase his income to a million rupees a month.
Chaudhary, a big name in the fishing business in the district, has four small and six big 10 ponds.
Six workers, including Chaudhary's couple, involved in the business.
Chaudhary said that if the youth who go abroad invests in this business, then, they can earn ample income.
Chaudhray said, "Why to go abroad, if something productive can be done in the country?"
With the 2.5 million rupees investment, 1.5 million rupees grant provided by the state government and a million rupees of his own, a fish hatchery for producing improved fingerlings is being built up in Chaudhary's fish farm.