Pandemic casts shadow over Dashain rituals; Maha Astami being observed across the country
October 24, 2020 | 7:25 pm&nbsp&nbsp&nbsp&nbsp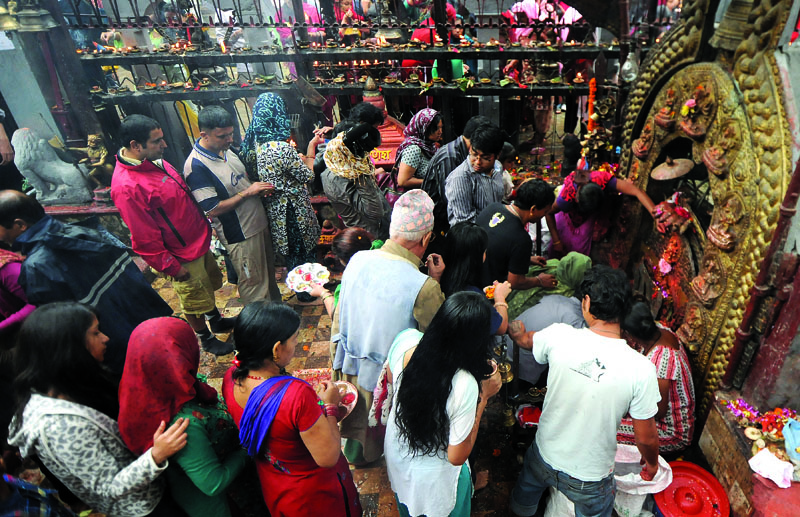 Kathmandu / Oct 24: Nepali Hindus are observing Maha Ashtami, the eighth day of the ten-day-long Bada Dashain festival, on Saturday, by worshipping goddess Durga Bhawani.
As per Hindu mythology, goddess Durga attained her power on this day and illuminated the entire universe with the divine light. With a trishul and a damru in two of her hands, she protects and blesses her devotees, it is believed.
Devotees visit Hindu shrines to offer special worships to the goddesses Mahakali, Mahalaxmi and Mahasaraswati. However, such visits have been largely affected this year due to the COVID-19 pandemic.
In normal days, devotees throng various temples and shrines of the goddesses in the Kathmandu Valley and throughout the country from early morning and offer various items of worship.
However, this year, the government has urged one and all to conduct only daily rituals in temples and shrines owing to the COVID-19 pandemic.
People also sacrifice goats and ducks on this day.
On this day, people perform worship at Dashain ghars, armories and offer worship to the goddesses offering sacrifices of different animals.
People also worship weapons, vehicles and machinery parts in adherence to traditional rituals passed on from the Vedic period.
A special 'Kalaratri' worship is also held at midnight at the 'Dashain Ghar', Hanumandhoka, at the heart of Kathmandu.
Pandemic casts shadow over Dashain rituals
This year's Dashain is being celebrated under COVID-19. The pandemic has forced Nepal to tone down its biggest festival, with many temples across the country closed and cultural rituals cancelled or reduced.
One of the major Dashain rituals affected has been animal sacrifice. Every year, on the days of Mahaastami, Mahanawami and Chaturdashi, 54 goats and 54 buffaloes are sacrificed each day in Mulchowk of Hanumandhoka Durbar Square. However, it was cancelled this year in light of the public health risk posed by the coronavirus.
"The Pension Management Office, Hanuman Dhoka Durbar Museum Development Committee, priests of the Hanuman Dhoka Palace Dashain House and representatives of local Guthis held a meeting and decided that the best course of action would be to cancel the sacrifices," said Muktinath Neupane, head of the Pension Management Office. "The sacrifices attract large crowds which is risky in the current situation. So, the decision was taken."
However, all the pujas and rituals except for the sacrifices will be conducted as in previous years without any change, Neupane informed.
Animal sacrifices in Patan Durbar Square and Bhaktapur Durbar Squares have also been cancelled.
In Janakpur, goat sacrifices in the famous Rajdevi Temple is also set to be cancelled or subdued. Dhanusha's Chief District Officer Prem Prasad Bhattarai said that the administration had earlier decided to cancel the sacrifices. "But locals and temple officials informed us that a few sacrifices had to be held for religious reasons. So, we are discussing with the stakeholders and will take an appropriate decision."
Every year, on the eve of Mahaastami, thousands of goats are sacrificed in the premises of the temple. Last year, more than 14,000 goats were sacrificed.
The sacrifices in Gorkha and Nuwakot palaces and Dakshinkali and Kavrepalanchowk Bhagwati temples will go ahead though. "But they will strictly comply with the government's health protocol," said Neupane.
In Lalitpur, in addition to the sacrifices, the historic Astamatrika Dance, Navadurga Dance and Khadga Jatra were also called off by the Lalitpur Metropolitan City.
However, Sikali Jatra in Khokana was organised without any hindrance. "We do not celebrate Dashain, we celebrate Sikali Jatra," said local Surya Dongol. "However, we limited our gatherings, wore masks and did not invite many relatives from outside."
The Pachali Bhairav Jatra in Teku also went ahead but everyone involved wore personal protective equipment (PPE) and the onlookers were asked to maintain social distancing.
An intrinsic aspect of Dashain, swings were also not built and played much this year. Harsha Shrestha from Chisankhugadhi, Okhaldhunga, said that it did not feel like Dashain at all. "Everyone used to come home from the cities and build tall swings to mark Dashain.
This year, no one came and no one built swings. The few swings that are there are also empty because parents aren't letting their children out of the house. Is this even Dashain?"