Receiving and offering of Tika, Jamara Continues
October 27, 2020 | 8:40 pm&nbsp&nbsp&nbsp&nbsp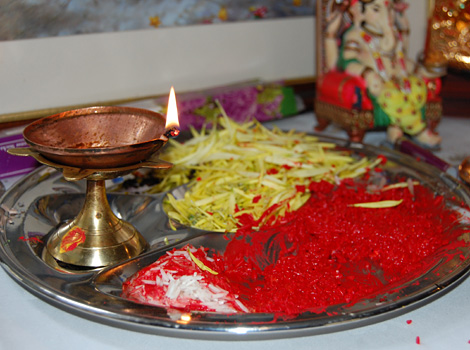 Kathmandu / Oct 27 : Offering and receiving of 'tika' and 'jamara' continues today also as part of the Bada Dashain festival. As per the custom, the elders give tika and jamara to the junior members of the family.
'Tika' is the mixture, in the paste form, of curd, rice grains and red vermillion powder and 'jamara' are the newly-sprouted shoots of maize or barley.
The family elders put tika on the forehead of and give jamara to the juniors on the occasion of Bijaya Dashami as the blessings.
The jamara and tika are considered auspicious and the blessings of the goddess Nawa Durga.
Offering and receiving tika and jamara takes place on the 10th day of the 15-day-long Bada Dashain festival.
The 10th day is the main day of this festival but this trend continues until the 15th day, the full moon day as well.
Nepalis celebrate the Bada Dashain festival in a grand manner with much gaiety and fervour. Mostly during this period, people observe the various associated rituals like worshipping the nine forms of the goddess called Nawa Durga, who symbolises power and victory. The Bada Dashain festival is also celebrated to honour the victory of truth and good over evil.
It is also an occasion for family reunion and celebration as people who have gone away from home to outside places or abroad for work return home during Dashain.
However, the Dashain this year is subdued is a low-key celebration due to the coronavirus pandemic. For this reason, people's movement for the purpose of visiting relatives for receiving tika and jamara is much less this year compared to the previous years.
People are observing the festival confined in their homes and among the family members only.
The number of people exiting Kathmandu valley for this purpose during the Dashain was also very few this year compared to the past.
The number of vehicles plying the capital city's roads is also greatly reduced this Dashain. RSS