10th int'l folk music film festival from Wednesday
November 24, 2020 | 9:32 pm&nbsp&nbsp&nbsp&nbsp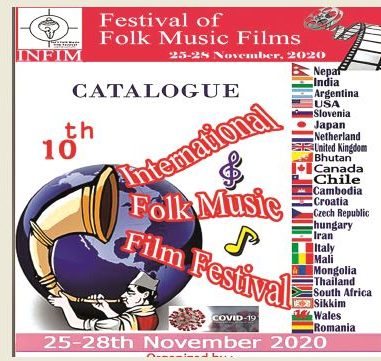 Kathmandu / Nov.24: The 10th edition of the International Folk Music Film Festival will be held here from November 25 to 28.
The Nepali Folk Baja Museum has been organising the International Folk Music Film Festival every year in the Nepali month of Mangsir (mid-November to mid-December) with a slogan of 'Music for Life and Music for Living'.
Ram Prasad Kandel, founder of Nepali Folklore Museum, informed that 28 films from 24 countries of the world will be screened in the 10th Folk Music Film Festival this year.
According to Kandel, the main objective of the Festival is to study, research and proliferate our invaluable intangible heritage of folk songs, folk music, folk dances, folk culture, folk traditions and various aspects of folk life.
"In addition, exchanging international experiences on what different nations across the world are doing for the study, research and preservation of their original folk culture, what needs to be done to preserve the original culture and how our intangible musical heritage can be preserved and promoted in a practical way are other goals of the festival," said founder Kandel.
This year, the International Folk Music Film Festival is dedicated to all known and unknown musicians who died of COVID-19. They would be honoured for their love for folk music and lifelong contribution, according to Kandel. "The departed souls will be honoured by lighting 108 lamps at Tripureshwor Mahadev Temple on November 25."
During the festival, two shows will be screened every day from 11:00 am to 4:00 pm.
The festival will feature 28 documentaries from 24 countries, including invited, non-competitive, and competitive documentaries on folk music, culture and lifestyle from different countries.
As in the previous years, this time too, the Life Time Achievement Award will be presented to Guru Ram Lal Maharjan, a 102-year-old senior music centenarian who has been continuously working for the preservation and promotion of traditional Newari Dafa music for the past decades.
The tradition of hosting the film festival had begun with the aim of attracting more and more youth of Nepal towards folk music and culture through communication and technology, said founder Kandel.