Pashupatinath temple to open for devotees from Dec 16
November 30, 2020 | 8:39 pm&nbsp&nbsp&nbsp&nbsp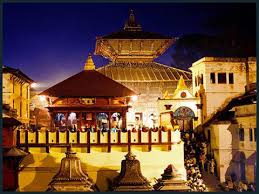 Kathmandu / Nov 30: The Pashupatinath temple, which has remained closed since the last week of March this year, is set to open from December 16. The temple will open for pilgrims by adhering to the health protocols that include proper social distancing measures, according to Pashupati Area Development Trust (PADT).
A standard operating procedure has been developed for devotees visiting the temple to help contain possible spread of the COVID-19. Pilgrims visiting the temple will have to enter from one door and exit from the other, wear a facemask, sanitize their hands among others, Member-Secretary of the PADT Dr Pradip Dhakal said.
Various organizations including the World Hindu Federation had been staging protests against the decision of the government to continue shutting down the holy shrine even after the resumption of public transportation service.
The temple remained closed for nearly nine months since the government enforced a nationwide lockdown on March 24. Former Member-Secretary of the PADT Dr Govinda Tandon said this is probably the first time in the history of the temple that it remained closed for such a long period.