Efforts underway to bring COVID-19 vaccine in Nepal: Minister Poudel
December 12, 2020 | 8:08 pm&nbsp&nbsp&nbsp&nbsp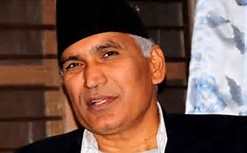 Kathmandu / Dec 12: Finance Minister Bishnu Poudel has said the government's efforts were underway to bring the vaccine against COVID-19 as soon as possible.
"The government will provide the vaccines against COVID-19 to all in a convenient manner. Attention is focused on making people's life easier in the wake of the global crisis," he said in a program held in Kathmandu on Saturday..
The minister lauded that the private sector has a tremendous role in the country's economy. He urged the private sector, media and general public to assist the government in the fight against COVID-19.
"Economic and social sectors are paralysed by the global crisis. It is challenging to restore the socio-economic life of people," Minister Poudel said.
According to him, the protection of citizens' lives and people's supremacy are the priority so the government does not leave any stone unturned to treat the coronavirus-infected persons.
Moreover, Minister Poudel shared that amid COVID-19, efforts were being made to increase production and investment so as to revive economic activities. He appealed to the media for creative and constructive feedback to the government to this end. RSS