Hotels of Ghorepani to resume operation from December 17
December 14, 2020 | 9:04 pm&nbsp&nbsp&nbsp&nbsp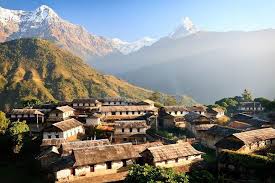 Amrit Prasad Poudel / Beni, Dec. 14: Hotels of Ghodepani and Poonhil of Myagdi, which falls under round Annapurna Trail are all set to open from December 17.
The local hoteliers are preparing to resume their business, which had been halted for nine months from March due to the pandemic followed by nationwide lockdown, from December 17 in the Ghorepani and Poonhill area, which falls under the choice of both, domestic and international tourists.
Dam Bahadur Garbuja Pun, Chairman of Annapurna Rural Municipality and tourism entrepreneur of Ghodepani, said, "The local entrepreneurs themselves decided to resume their deserted business by following all the health safety measures prescribed by the government."
"As one needs to trek from Naya Pul of Kaski via Ghandruk to reach Ghorepani, the tourism business of Ghandruk might also resume now," said Chairman Dam Bahadur.
As most of the hotels in Ghorepani are operated by family members and as the workers started to return to hotels, the tourism entrepreneurs of the area decided to reopen their businesses.
Nabin Subedi, chief administrative officer of the Annapurna Rural Municipality, said that the hotels would operate by abiding by the rules prescribed by the government.
Prior to this, the Annapurna Rural Municipality had prohibited tourists' inflow owing to the threat of the spread of the novel coronavirus.
The hoteliers of the area have expected that the tourism business would now gain some speed after the resumption of long-route vehicles and domestic and international flights.
Poonhil, which lies 3,210 meters above sea level, is one of the famous tourist destinations from where beautiful Himalayan ranges, sunrise can be viewed and lifestyle of the Magar community can be experienced. Rhododendrons blooming during the month of Falgun and Chaitra are one of the major tourist attractions here. (Rising Nepal)