426 new infections in 5,225 RT-PCR tests; 167 cases in Valley
January 1, 2021 | 9:52 pm&nbsp&nbsp&nbsp&nbsp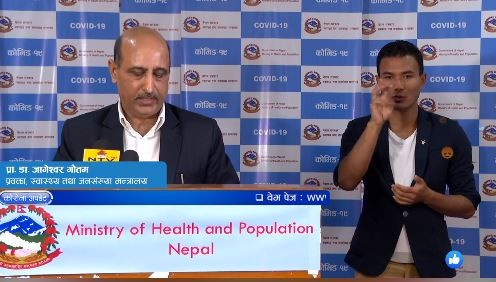 Kathmandu / Jan. 1: With 426 new cases of the novel coronavirus confirmed on Friday, the national COVID-19 tally has surged to 261,019.
"In 5,225 Real-Time Polymerase Chain Reaction (RT-PCR) tests done in the last 24 hours, 426 persons, 153 females and 273 males were found infected with SARS-CoV-2," informed the Ministry of Health and Population (MoHP) in its regular update.
Currently, there are 6,048 active cases of COVID-19 across the nation. Of them, 2,890 patients are receiving treatment in institutional isolation and the remaining are in home isolation.
A total of 367 persons, mostly those who had returned from abroad, are placed in quarantine.
Meanwhile, 748 COVID-19 patients receiving treatment institutional isolation or staying in home isolation recovered from the infection in the last 24 hours. Nepal has now recorded 253,107 cases of recoveries and the recovery rate is at 97 per cent.
A total of eight people succumbed to the deadly virus in the last 24 hours and with this, the national COVID-19 related death tally has reached 1,864.
Kathmandu valley logs 167 new cases of Covid-19 on Friday
The Kathmandu valley on Friday logged as many as 167 additional cases of coronavirus infection.
Of the total infected, 72 were women and 95 men. The capital alone witnessed 134 cases of infection while Lalitpur and Bhaktapur reported 18 and 15 infections, respectively.
At present, there are 2,839 active Covid-19 cases in Kathmandu while the number of same in Lalitpur is 348 and 171 in Bhaktapur.
Meanwhile, the total number of people that have recovered from the disease in Kathmandu is 94,012; 14,785 in Lalitpur and 8,626 in Bhaktapur.
As many as 473 people have died from Covid-19 in Kathmandu, 146 in Lalitpur and 105 in Bhaktapur.
Kathmandu is the only district with 500+ active cases in the country. On the contrary, Mahottari and Mugu are the two districts with zero live infections as of today.
On Friday, 426 new cases of the coronavirus infection had surfaced in the country following which the nationwide Covid-19 tally has reached 261,019. Eight deaths reported in the last 24 hours took the death toll to 1,864.