Stress on ordinary people's access to energy
January 9, 2021 | 9:09 pm&nbsp&nbsp&nbsp&nbsp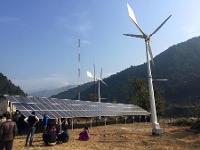 Kathmandu / Jan 9 : Emphasis has been laid on ordinary people's access to energy in order to bring reforms in the living standard of the poor people, and ensure their right to education and health.
Speaking at a programme here on Friday, representatives of various energy related organisations said initiatives must be taken to represent the voices of the people in the bills related to power and energy that the government is going to introduce.
At the programme organised by Nepal Energy Foundation on 'energy policy and law of the country', Chair of the Foundation Mohan Das Manandhar said access to energy should be expanded to the poor and underprivileged people so as to end inequality, and improve their education, health and livelihood opportunities.
No poverty alleviation programme can be successful without ensuring affordable and reliable energy to the poor communities, he said.
Energy and environment expert Dilraj Khanal said the power bill registered by the government in the parliament, and the bill relating to renewal energy that is in the drafting process have not been able to come up with concrete programmes and plan in favour of the poor people.
The power bill does not mention about the rural electrification and micro-hydel projects, public hearing on issues related to power production, transmission and distribution and does not ensure share investment of the poor people in power.
Executive Director of the Foundation Dilli Ghimire pointed out the need for energy organisations and the civil society to give appropriate recommendations to the government as the bills related to power and renewal energy do not include any concrete provisions related to the rights of the poor people to energy.
President of National Association of Community Electricity Users ' Nepal Narayan Gyawali said the decisions reportedly taken by the government targeting the poor people have not brought real benefits to the poor, while the organisations working for rural electrification are in a state of closure.
Chairperson of Women's Network for Energy and Environment Kala Timalsena said the national aspiration of Happy Nepali and Prosperous Nepal cannot be realized without ensuring the access of the poor and women to energy. RSS