Army chief inaugurates Prithvi Narayan Shah Study Center at army HQ
January 11, 2021 | 8:18 pm&nbsp&nbsp&nbsp&nbsp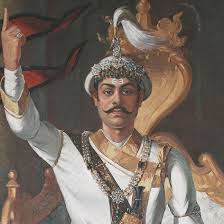 Kathmandu / Jan 11: "Prithvi Narayan Shah Study Center" was inaugurated on Monday, coinciding with the 299th birth anniversary of Prithvi Narayan Shah, the father of modern Nepal.
Amid a special function held at the Bhadrakali-based Nepal Army headquarters in the capital, chief of Nepal Army, Purna Chandra Thapa, unveiled the center.
The army headquarters said that the center has been established to study the contributions made by late Prithvi Narayan Shah. The center has various sketches and paintings demonstrating contributions made by Shah.
On the occasion, Army Chief Thapa also paid tribute to late Shah. Prithvi Jayanti or the birth anniversary of Shah is observed every year on Poush 27 as per the Nepali calendar in honor of late Shah. He is credited for the country's unification.
Prithvi Narayan was the King of Gorkha when he began the national unification campaign in September 1745. After conquering Nuwakot, he annexed many other small principalities to his kingdom.
According to the Nepali calendar, Prithivi Narayan Shah was born on 27th Poush, 1779 BS (11 January, 1723 AD) in Gorkha district and was credited for unifying various small principalities to build modern Nepal.