270 new COVID-19 cases and 390 recoveries; Import of COVID-19 vaccines from India permitted
January 15, 2021 | 7:41 pm&nbsp&nbsp&nbsp&nbsp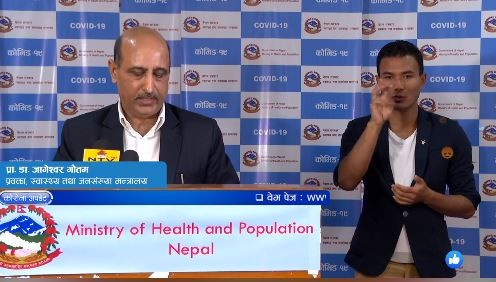 Kathmandu / Jan. 15: With 270 new cases of the novel coronavirus confirmed on Friday, the national COVID-19 tally has reached 266,816.
"In 3,084 Real-Time Polymerase Chain Reaction (RT-PCR) tests done in the last 24 hours, 270 persons including 90 females and 180 males were found infected with SARS-CoV-2," informed the Ministry of Health and Population (MoHP) in its daily update.
Currently, there are 4,301 active cases of COVID-19 across the nation of which, 994 are in institutional isolation and the remaining are in home isolation. A total of 231 persons, mostly those who had returned from abroad, are placed in quarantine.
Of the patients receiving treatment in institutional isolation, 165 are admitted to the ICU while 38 are receiving treatment with the ventilator facility.
Meanwhile, 390 COVID-19 patients receiving treatment in institutional isolation or staying in home isolation recovered from the infection in the last 24 hours. Nepal has now recorded 260,567 cases of recoveries and the recovery rate stands at 97.7 per cent.
Moreover, five persons succumbed to the novel coronavirus in the last 24 hours. With this, Nepal's COVID-19 death toll has reached 1,948.
Kathmandu valley logs 172 new cases on Friday
The three districts of Kathmandu valley reported as many as 172 new cases of the coronavirus infection on Friday.
This accounts for more than 50% of the total 270 new infections recorded today.
Kathmandu alone recorded 147 new cases while Lalitpur and Bhaktapur registered 22 and three cases, respectively.
Among the newly infected in the valley, 59 are females while 113 are males.
Currently, there are 2,334 active infections in Kathmandu, 287 in Lalitpur, and 72 in Bhaktapur. The total number of active cases throughout Nepal, as of today, is 4,301.
So far, 487 fatalities from Covid-19 have been reported in Kathmandu, 113 in Bhaktapur, and 153 in Lalitpur. The nationwide death-toll has advanced to 1,948 with five more Covid-related fatalities logged today.
Meanwhile, a total of 96,851 people have recovered from the infection in Kathmandu while 15,287 have recovered in Lalitpur and 8,903 in Bhaktapur.
Kathmandu is the only district with over 500 active cases in the country. On the contrary, Kalikot, Rukum West, Mugu are the only three districts with zero live infections, as of today.
Import of COVID-19 vaccines from India permitted, opens way for private sectors
The Department of Drug Administration (DDA) has given approval to the private sectors to import the COVID-19 vaccines produced by the Pune-based Serum Institute of India.
Santosh KC, the spokesperson at the DDA, informed with approval to import the Oxford-AstraZeneca coronavirus vaccine produced by Serum, the path to import the vaccines in Nepal has opened.
"Now, the much-awaited COVID-19 vaccines can be brought to Nepal via government-to-government model. Even the private companies can import vaccines now," added KC.