240 new infections detected in 3,819 RT-PCR tests; 131 in Kathmandu Valley
January 16, 2021 | 8:10 pm&nbsp&nbsp&nbsp&nbsp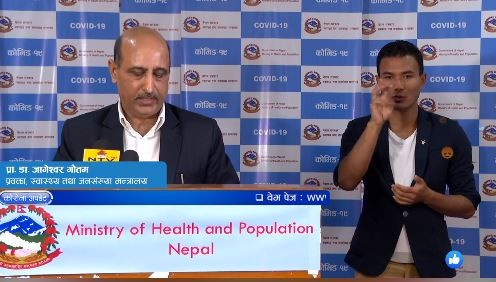 Kathmandu / Jan 16: With 240 new cases of the novel coronavirus confirmed on Saturday, the national COVID-19 tally has surged to 267,056.
"In 3,819 Real-Time Polymerase Chain Reaction (RT-PCR) tests done in the last 24 hours, as many as 240 persons were found to have been infected with SARS-CoV-2," informed the Ministry of Health and Population (MoHP) in its update.
Currently, there are 4,058 active cases of COVID-19. Meanwhile, 477 COVID-19 patients have been recovered from the infection in the last 24 hours.
With the recoveries total 261,044 people have been recovered from contagion. Similarly, with the death of 6 people in the last 24 hours the numbers of people succumbed to COVID-19 reached 1,954. Currently 4,058 people are in the isolation and 231 are placed in quarantine.
131 new cases recorded in Kathmandu valley
The three districts of Kathmandu valley recorded 131 additional cases of coronavirus infection, on Saturday.
Of the newly infected, 42 are females while 89 are males.
Kathmandu district alone witnessed 115 cases of infection while Lalitpur and Bhaktapur reported 12 and four cases, respectively. At present, there are 2,278 active Covid-19 cases in Kathmandu while number of the same in Lalitpur is 244 and that in Bhaktapur is 71.
As many as 487 people have lost their lives to Covid-19 in Kathmandu. Likewise, 155 fatalities have been reported in Lalitpur and 113 in Bhaktapur, so far.
Meanwhile, total number of people who have recovered from the disease in Kathmandu is 97,022. Likewise, 15,340 people have recovered in Lalitpur and 8,911 in Bhaktapur.
Kathmandu is the only district with over 500 active cases in the country. On the contrary, Solukhumbu, Kalikot, Rukum West, and Mugu are the four districts with zero live infections, as of today.