India hands over Covid-19 vaccines to Nepal; 336 new cases of COVID-19
January 21, 2021 | 7:59 pm&nbsp&nbsp&nbsp&nbsp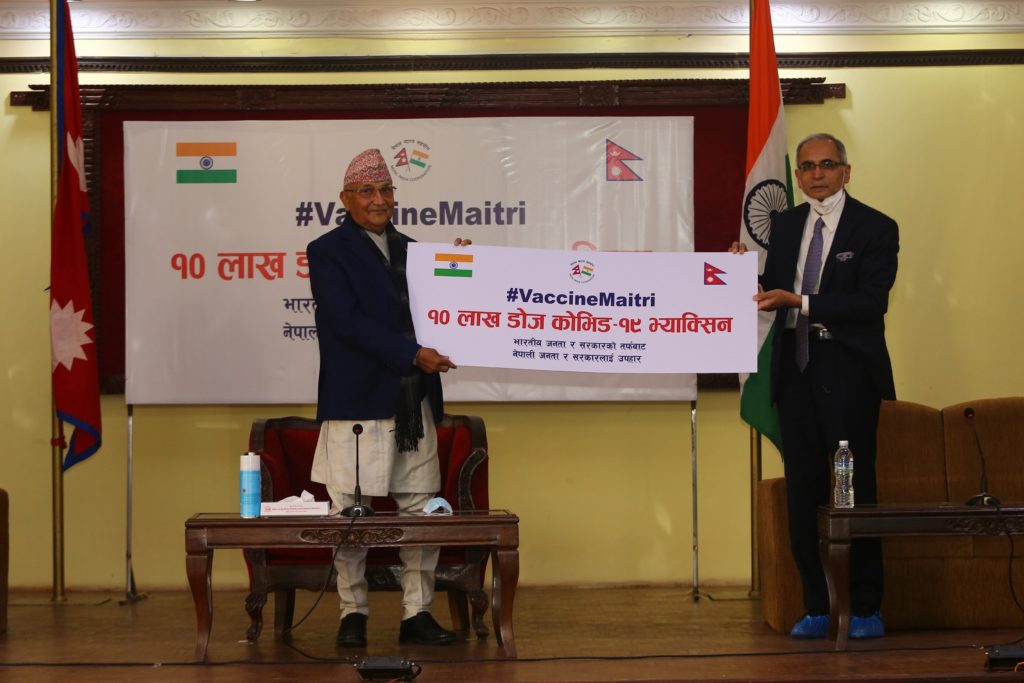 Kathmandu / Jan 21: The government of India has officially handed over Covid-19 vaccines to the Nepali government.
Indian Ambassador to Nepal Vinay Mohan Kwatra, on behalf of the Indian government, handed over the vaccines to Prime Minister KP Sharma Oli, who received the same on behalf of the Nepali government.
Amid a programme organised at Prime Minister's official residence in Baluwatar, PM Oli received 1 million doses of the India-manufactured vaccine against coronavirus.
Earlier today, the vaccines were unloaded from an Air India aircraft at Tribhuvan International Airport (TIA) in the capital city. Later, the vaccines were transported in a refrigeration van to the Department of Health Services in Teku, where health workers unloaded and stored them, as per protocol.
India under the initiative 'Vaccine Maitri' has provided Covid-19 vaccines to Nepal along with other neighbouring countries.
336 new cases of COVID-19, 226 Recoveries In 24 Hours
With 336 new cases of the novel coronavirus confirmed on Thursday, the national COVID-19 tally has reached 268,646.
"In 5,030 Real-Time Polymerase Chain Reaction (RT-PCR) tests done in the last 24 hours, 336 persons were found infected with SARS-CoV-2," informed Ministry of Health and Population (MoHP) in its daily update.
Of the new infections, 145 cases including 145 in Kathmandu, 116 in Lalitpur and three in Bhaktapur were recorded in the Kathmandu Valley.
Currently, there are 3,799 active cases of COVID-19 across the nation of which, 892 are receiving treatment in various institutional isolation and the remaining are placed in home isolation. Also, 172 persons, mostly those who had returned from abroad, are placed in quarantine.
Likewise, 150 COVID-19 patients are admitted to the ICU and 34 are receiving treatment with the ventilator facility.
Meanwhile, 226 COVID-19 patients receiving treatment in institutional isolation or staying in home isolation recovered from the infection in the last 24 hours. Nepal has now recorded 262,868 cases of recoveries and the recovery rate is at 97.9 per cent.
Moreover, four persons succumbed to COVID-19 in the last 24 hours, taking Nepal's COVID-19 death toll to 1,979.
Kathmandu valley logs 198 new coronavirus cases today
The three districts of Kathmandu valley reported 198 new cases of the coronavirus infection on Thursday.
Among the newly infected, 73 are females while 125 are males.
Of the total 336 new cases in the country, Kathmandu district reported 146 infections while Lalitpur and Bhaktapur registered 36 and 16 cases respectively.
Currently, there are 2,201 active infections in Kathmandu, 231 in Lalitpur, and 46 in Bhaktapur. The total number of active cases throughout Nepal, as of today, is 3,799.
So far, 490 fatalities from Covid-19 have been reported in Kathmandu, 113 in Bhaktapur, and 158 in Lalitpur. The nationwide death-toll has advanced to 1,979 with four Covid-related fatalities logged today.
Meanwhile, a total of 97,803 people have recovered from the infection in Kathmandu, 15,482 in Lalitpur, and 8,998 in Bhaktapur.
Kathmandu is the only district with over 500 active cases in the country. On the contrary, Bhojpur, Kalikot, Rukum West, and Mugu are the four districts with zero live infections, as of today.