COVID-19 update: 302 new cases, 480 recoveries and seven deaths in 24 hours
January 22, 2021 | 9:24 pm&nbsp&nbsp&nbsp&nbsp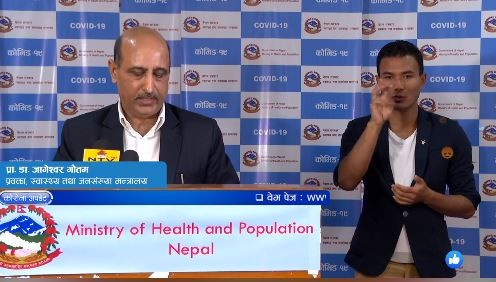 Kathmandu / Jan. 22: With 302 new cases of the novel coronavirus confirmed on Friday, the national COVID-19 tally has reached 268,948.
"In 3,545 Real-Time Polymerase Chain Reaction (RT-PCR) tests done in the last 24 hours, 302 persons, 133 females and 169 males were found infected with SARS-CoV-2," informed Ministry of Health and Population (MoHP) in its daily update.
Of the new infections, 112 cases including 53 females and 59 males were recorded in the Kathmandu Valley.
Currently, there are 3,614 active cases of COVID-19 across the nation of which, 879 are receiving treatment in various institutional isolation and the remaining are placed in home isolation. Also, 158 persons, mostly those who had returned from abroad, are placed in quarantine.
Likewise, 154 COVID-19 patients are admitted to the ICU and 31 are receiving treatment with the ventilator facility.
Meanwhile, 480 COVID-19 patients receiving treatment in institutional isolation or staying in home isolation recovered from the infection in the last 24 hours. Nepal has now recorded 263,348 cases of recoveries and the recovery rate is at 97.9 per cent.
Moreover, seven persons succumbed to COVID-19 in the last 24 hours, taking Nepal's COVID-19 death toll to 1,986.
Kathmandu valley logs 112 coronavirus infections Friday
On Friday, 112 individuals –53 women, 59 men — were reported to have contracted the coronavirus infection in the Kathmandu valley.
90 of the 112 infections surfaced in Kathmandu while 13 and nine cases were detected in Lalitpur and Bhaktapur, respectively.
According to the data provided by the Ministry of Health and Population, there are 2061 active infections in Kathmandu while the number of the same in Lalitpur and Bhaktapur are 175 and 37.
So far, 98,033 people that had earlier contracted the disease have recovered in Kathmandu, 15551 in Lalitpur and 9015 in Bhaktapur.
Meanwhile, 490 people have succumed to Covid in Kathmandu, 158 in Lalitpur and 114 in Bhaktapur, till date.
Kathmandu continues to remain the only district with over 500 live infections while Bhojpur, Rukum West and Mugu have zero cases at present.