Model settlement in Jhapa provides relief to landless
January 25, 2021 | 7:58 pm&nbsp&nbsp&nbsp&nbsp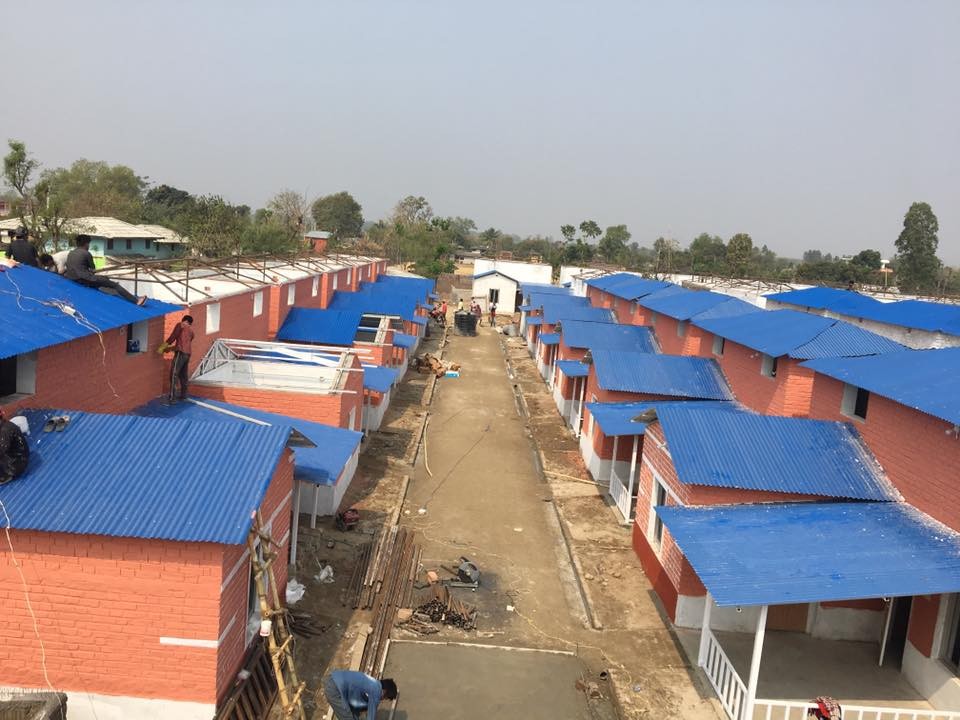 Tika Ram Upreti, Jhapa, Jan. 25: The Damak Municipality has started developing model settlements in order to provide a systematic settlement for the landless and those living in the unmanaged settlement.
The construction of the model and modern settlement of the city has been moving forward near the Ratuwa stream in Damak Municipality-1, Jhapa, since last year.
The construction of buildings was started on June 5, 2020, and there was an agreement to complete it by the end of June 12, 2021. However, the project has been completed before the expiry of the deadline.
The artistic-looking single-storey buildings are painted white, have the same outer design with a blue tin roof. All the houses have facilities of drinking water and electricity and a small garden around each and every house add to the elegance of the settlement.
There are two rooms made in a modern way in every building, and a kitchen is situated alongside the two rooms. With marbles, toilets and bathrooms of the houses look shining. This attractive settlement has been made as the model settlement of Damak Municipality, said Romnath Oli, mayor of the municipality.
A visitor to this settlement gets an impression that it is a new modern town, and the dwellers in the settlement have as pleasing a smile as the settlement is pleasant.
The modern settlement has been built with a joint investment of the Federal Election Partnership Programme and Damak Municipality. A budget of Rs. 19 million was allocated in order to build the 15 model houses. It cost about Rs. 1.28 million to build a house.
Similarly, only 35 houses were constructed in this area in the previous fiscal year. Destitute families are kept in these houses at present. It is said that there is a plan to provide homes to the landless squatters on a priority basis that are being built every year.
This model settlement which is built by targeting a nuclear, simple family is proved to be a boon for those families who used to live in tents and huts in public places.
Mana Maya Bujel, 77, who has been listed resident in home number 1 in the previous fiscal year said, "I had never thought of being able to live in a modern house with modern sanitary facilities".
She has been suffering from paralysis. She uses a wheelchair for the movement. So, she had never even imagined that she could build another house as it was beyond her capacity.
She said that the government fullfilled her dream of living in a new house. Now, my all sufferings are gone, she expressed with happiness.
Now, I can have a sound sleep because I have a proper house unlike in previous years, where floods and hurricanes used to destroy our house, she said.
Built with a new plan, this model settlement has now become a place of a study tour for both internal and external tourists. (RisiNgnepal)