Replacing thatch roof with Tin unfulfilled dream
January 29, 2021 | 9:09 pm&nbsp&nbsp&nbsp&nbsp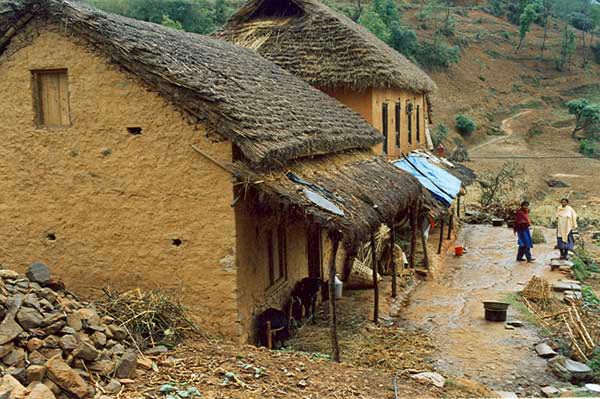 Bajura / Jan. 29: Several thatched-roof houses scattered across Bajura district await the much needed corrugated zinc roofing sheets.
On grounds of replacing all the straw roofs with zinc, civil servants from the local level had gone from village to village keeping records and assessing the needs of the inhabitants. "Government employees came here, took pictures of our houses while also advising against straw roofs," said Surja Oud of Budhiganga Municipality-8. Since straw increases the risk of catching fire and also doesn't provide much protection from downpour and cold, the local government had promised to install zinc sheets by winter.
However, in the shivering cold of Magh month, the inhabitants are still deprived of safe roofing. "At times we have to weather snow falls during the months of Poush and Magh. Without proper roof, existence becomes extremely challenging," said Surja. Ward officials had ensured that zinc roofs would be installed by this month. But it's already mid-winter and the ward has not been able to keep its promise, bemoans Surja.
According to Budhiganga Municpality-8 Ward Chairperson, Tek Bahadur Rawal, concerned authority sent data collectors to their respective wards to get details on the number of households living in makeshift homes. "Our ward has collected the data and has already sent it to the Municipal Office. But we do not know when the Municipality will dispatch zinc roofs," said Rawal.
Apparently, there isn't enough budget to roof all the houses recorded by the data collectors. As per the Department of Urban Development and Building Construction, the allocated budget is enough to provide zinc roofs for no more than 99 houses in Budhiganga.
On the contrary, the Budhiganga Muncipality has collected data of over 488 houses with straw roofs.
As per the Department's plan, only 1012 houses in the nine local levels of Bajura district will be provided with zinc roofing facilities. Among them, the roofs will be installed at 110 houses in Swamikartik, 141 in Jagannath, 134 in Budhinanda, 99 in Budhiganga, 131 Khaptadchededaha, 166 in Gaumul, 58 in Triweni, 88 in Badimalika and 85 in Himali Rural Municipalities.
"There are certain guidelines and standards for this programme, which the Budhiganga Municipality seems unaware of," said Deepak Shrestha, Chief of the Department of Urban Development and Building Construction, in Doti district.
The zinc roofs will be provided only to those with significant financial challenges, who have land ownership documents, households with disabled members, single mothers, dalits and indigenous groups.