Apple farming lures Humla farmers
February 17, 2021 | 7:47 pm&nbsp&nbsp&nbsp&nbsp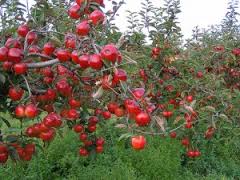 Simkot / Feb. 17 : Since the last two years, Humla district has seen a surge in commercial apple farming. While apple has always been a favourite among the local residents, the fruit until now has always been grown simply for personal consumption. Recently, though, the denizens have woken up to the financial prospect of apples, as a result of which, commercial apple farms dot several places within the district.
Just past Nepali month of Poush, Lokendra Rawat planted over 100 seeds on his premises at Simkot Rural Municipality Ward No. 5. With no water supply facilities, the denizens have deployed individuals to guard the seeds and water them timely. "Humla will soon be connected to the road networks, and realising its benefit several households have started to commercially grow apples," said Rawat.
Like Rawat many others are jumping on the apple farming bandwagon. Following suit is another local farmer Jagat Shahi of Tajakot Rural Municpality-3, who this year alone has planted 200 apple seeds in his farm. "The future of apple is bright, and I am confident that my hard work will reap fruitful benefits," added Shahi.
Bal Bahadur Fadera of Agricultural Development Office informs that 35 individuals from Simkot Rural Municipality have so far bought seeds, with each individual on average taking 50 apple seeds. Renowned for its apple all over the nation, the locals now have the opportunity to finally capitalise on the suitable soil and environment of Humla to produce more apples and commercially export them to other parts of the country, claimed Fadera.