EC asks UML and Maoist Center to come up if they opt for fresh merger
March 9, 2021 | 7:59 pm&nbsp&nbsp&nbsp&nbsp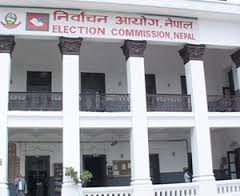 Kathmandu / Mar 9: The Election Commission (EC) on Tuesday asked the recently-revived Communist Party of Nepal (Unified Marxit Leninist) and Communist Party of Nepal (Maoist Center) to come up with a new name and election symbol of the party if they decide to merge the two parties again.
A meeting of the poll body asked the two parties to file an application with the two party's center committees' decisions of party unification along with the new party's name and its election symbol within 15 days if they opt for another round of merger.
These two parties had decided to form a new party named the Nepal Communist Party (NCP) on May 16, 2018. The unification, however, was invalidated by a verdict of the Supreme Court on Sunday.
Issuing a verdict , a joint bench of justices Kumar Regmi and Bam Kumar Shrestha ruled that the Nepal Comunist Party belonged to Rishi Kattel who had filed a writ petition claiming the name of the party.
Kattel had registered the NCP before the CPN (UML) and CPN (Maoist Center) were merged into the new NCP. The new NCP was led by KP Oli and Pushpa Kamal Dahal which reached the helm of the government after the 2017 parliamentary elections.