Sadhus arrive at Pashupatinath Temple to celebrate Maha Shivaratri
March 10, 2021 | 8:30 pm&nbsp&nbsp&nbsp&nbsp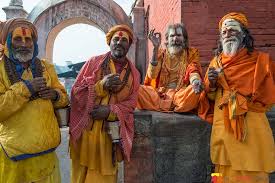 Yalu Joshi, Kathmandu, Mar. 10: Among various specialties of Maha Shivaratri, the presence of sadhus or hermits is one of them.
This year the Pashupati Area Development Trust (PADT) has not officially invited hermits because of which the number of hermits visiting the temple has gone down compared to previous years.
The hermits who visit the temple in different looks during Maha Shivaratri carry activities that are funny to many and that give pleasure as well, said Nischal Kalfe, a visitor to the temple, adding that it is them, the hermit, who pull him to the temple.
Nischal Kafle said, "I draw portrait art. So my visit here is like one artist coming to see the artisan of another artist."
There will be a throng of people visiting the place tomorrow, so the Sadhus have arrived today only, he informed.
This year, Sadhus are not observed as in the previous years, said Kafle, expressing his conviviality over the matter. They ask for money or tell us off after we take pictures with them and come along until they get the money.
As the Maha Shivaratri is being observed tomorrow on Thursday. Sadhus from across the country and also from India have gathered at the Pashupatinath temple premise.
The PADT has banned the consumption and sale of cannabis and other narcotics in the Pashupati area on Shivaratri.
The saints have poured their dissatisfaction over the matter. One hermit that visited the temple one week ago said that this year the visits of sages is much less than the previous years. Previously, a group of 50/60 hermits used to visit the temple but this year only a group of 10 visited the temple.
According to Dr. Pradeep Dhakal, member secretary of the PADT, the number of saints is less due to the COVID- 19 pandemic.
With the arrival of the saints, the temple premises is seen crowded. They also earn well by making such visits.
The locals also estimate that the arrival of Sadhus has decreased this year.
The temple of Pashupatinath has been decorated for the grand celebration of Maha Shivaratri.
Due to the COVID- 29 pandemic, it is estimated that only seven to eight lakh devotees will visit Pashupatinath this year.
The PADT informed that all the four gates of the Pashupatinath will be opened from 4 am till the last visitor finishes the worship.
However, the devotees are asked to wear masks before entering the main entrance.