NC will neither table no-confidence motion nor join govt: Deuba
March 23, 2021 | 8:42 pm&nbsp&nbsp&nbsp&nbsp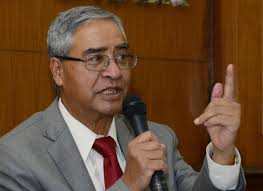 Biratnagar / March 23: President of the main opposition party, Nepali Congress (NC), Sher Bahadur Deuba has made it clear that they will not join the government.
Speaking with media persons at the Biratnagar Airport on Tuesday, NC President Deuba, said that they would rather remain in the opposition until the next election. "We aren't in any hurry to join any government," said Deuba.
"We'll not indulge the Congress Party in the game of toppling and forming governments," said he, adding, "We won't table a no-confidence motion against the current government, either."
According to Deuba, the NC will continue playing the role of the opposition according to the popular mandate expressed in the 2017 general election.
Deuba's statement comes at a time when the Supreme Court revived the ruling CPN-UML, which, however, does not have enough seats in the House of Representatives (HoR) to form a new government.
The Congress party hasn't been able to maintain a concrete stance on the formation of a new government although most leaders of the party are of the opinion that an alternative to Prime Minister KP Sharma Oli should be sought at the earliest.
The leaders of the major political parties including the ruling CPN-UML, main opposition NC, CPN (Maoist Center) and Janata Samajbadi Party (JSP) have been holding a series of talks in an apparent bid to forge a new political equation. The CPN (MC), which was also revived following the court's order on March 7, has not withdrawn its support to the Oli-led government though its key leaders have been coming down heavily upon PM Oli of late. RSS