FM Paudel rules out possibility of lockdown
March 25, 2021 | 8:52 pm&nbsp&nbsp&nbsp&nbsp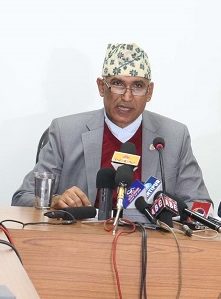 Kathmandu / March 25: Finance Minister Bishnu Prasad Paudel on Thursday ruled out the possibility of the government enforcing another phase of lockdown and closure of Nepal-India borders in wake of the increasing risk of COVID-19.
With the increasing risk of the second wave of the coronavirus, there is a growing apprehension among the general public that the government might impose another phase of lockdown to curb the spread of the virus. Following a surge in COVID-19 cases in neighbouring India, the Ministry of Home Affairs on Monday evening issued a circular to all the district administration offices and local governments to keep isolation and quarantine centers standby and follow all health protocols.
According to the Metropolitan Traffic Police Division, everyday 37,000 people enter the Kathmandu Valley from various entry points of the Valley. Many of them are found to be infected with the coronavirus.
The government however said there is no plan to enforce another lockdown. Finance Minister Paudel said the government would rather strictly implement the safety protocols while allowing regular social and economic activities. He also assured that the government would not let a shortage of budget to purchase vaccines against the coronavirus.
Last year, the government enforced a lockdown for the first time on March 24. The four-month long lockdown was lifted on July 21.