Melamchi project set to supply Water from Sunday
March 27, 2021 | 10:05 pm&nbsp&nbsp&nbsp&nbsp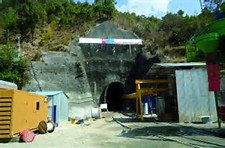 Mukunda Gaire / Kathmandu, Mar. 27: The Melamchi Water Supply Project (MWSP) has expedited work to distribute water to the denizens of Kathmandu Valley.
Minister for Drinking Water and Sanitation Mani Thapa inaugurated the work of sending water to the distribution system from the Melamchi Water Treatment Plant in Sundarijal under the process of cleaning the pipes laid in Kathmandu Valley on Friday.
On the very day of Friday, the water of Melamchi has been poured out in Dhobikhola near Chabahil by flushing the Melamchi water through the bulk distribution system pipeline.
Madhav Belbase Secretary at the Ministry of Water Supply and Sanitation informed that the water will be distributed in Kathmandu Valley from Sunday.
Secretary Belbase informed that 40 million litres will be distributed in the first two days, then 65 million litres and 85 million litres will be distributed in four days.