Commercial Strawberry farming begins in Pyuthan
April 5, 2021 | 9:16 pm&nbsp&nbsp&nbsp&nbsp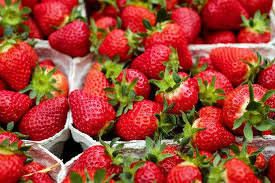 Salim Ansari / Pyuthan. 5: Commercial strawberry farming has started for the first time in the district with the initiation of Sishir GC of Maranthana, Pyuthan Municipality-9.
GC has planted 4,000 strawberries of Japanese breed in two Ropanis of rented land. He said that the strawberries had already started to grow.
Around 10 kilograms of strawberries are sold on a daily basis directly from the farm, which has been registered as Pakhachiti Agriculture and Livestock Collection Centre. GC said that he had invested Rs. 100,000 for the farming.
"The strawberries of my farm are easily sold in the local markets at Rs. 500 per kilogram," said GC, adding, "I am planning to expand my farm from the upcoming year."
Stating that he had started the strawberry farming as a trial, GC said, "The berries grew quite nicely as they are sold directly from my house and the farm."
He said that he had been successful to make Rs. 30,000 profit per month from commercial farming.