Drinking Water woes set to end after five decades
April 10, 2021 | 9:08 pm&nbsp&nbsp&nbsp&nbsp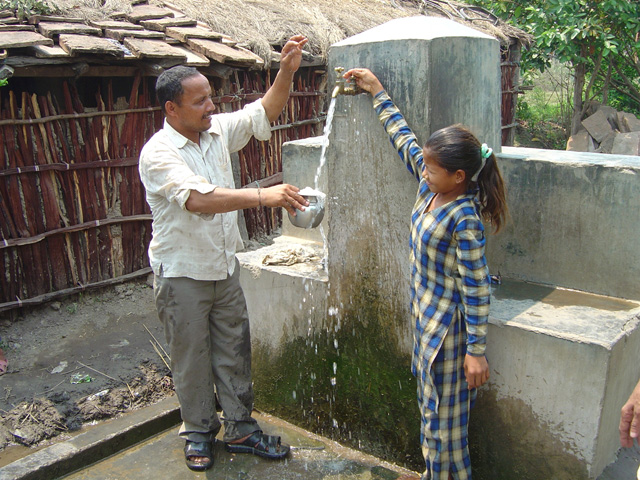 Sher Bahadur Sarki, Bajura / Apr. 10: Residents of Badeda, Budhiganga Municipality-10, have breathed a sigh of relief after the drinking water facility finally arrives at their settlements after 50 years of wait.
The work on the scheme started to gain momentum only in February 2020 with the construction of 29 taps for 124 households at a cost of Rs. 6.2 million.
After years of dealing with the persistent water woes, Badeda locals now have easy access to drinking water thanks to the supply line, which delivers water straight from the source of Jadepani – some seven kilometres away from the locality.
"We have had to weather water scarcity for a long time. The entire community relied on a single well. There used to be a long line of people waiting to carry water on jerry cans and buckets. But with tap water installed at several places, we no longer have to worry about it," expressed Hira Sarki, a resident.
The barren land in the village has also been put to good use by utilising the water to draw irrigation lines and feed the fields. "The wastewater that accumulates after washing clothes are collected in a separate tank, which is then used for irrigation," informed local Kalu BK.
This ingenious method has been extremely fruitful as vegetables have started growing in the land. Apart from these, the supply of water has eased several other facets of life, especially improving hygiene and sanitation.
The long-neglected dirty latrines are also getting cleaner with each passing day. Previously, the women of Badeda had to travel long distances to fetch water. "They would then have to carry those heavy buckets full of water all the way back home.
It used to be an arduous journey. But thankfully, we don't have to go through all that," said Rajendra Rawal, another inhabitant. However, the locals do not want to be too complacent as of yet. While the 29 taps have in fact eased life, it doesn't fulfil the local level's promise of installing 'one tap per household'. "The government has promised to implement massive drinking water project.
While we have requested the local level to install other taps, the plan is yet to be implemented," added Rawal. Addressing the issue, the Chairperson of the Badeda Drinking Water said, "The people of Badeda are happy to see these taps installed. After 50 years, they have access to clean water. For all these years, it hadn't been possible to end the locality's water woes.
It is all thanks to the Municipality that the problems are now gradually ending." Deepak Bikram Shah, Mayor of Budhiganga Municipality, has, however, ensured providing a long-term solution. "While the 29 taps are feasible in the short-term, we will make sure to launch the full-scale plan soon," he added.