In wake of Visitor Revival, Sauraha fears impact of Virus Resurge
April 22, 2021 | 9:34 pm&nbsp&nbsp&nbsp&nbsp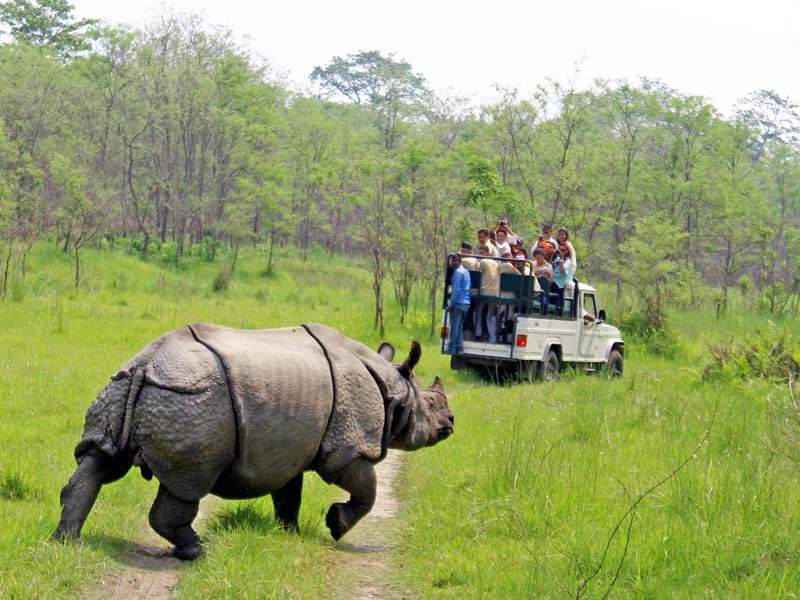 Modnath Dhakal / Sauraha: The New Year 2078 has brought boon to Sauraha, a tourism hub in Chitwan, which like other tourist destinations across the country experienced the brunt of the coronavirus pandemic and remained out of operation for more than six months.
It took more than half-a-year for it to bounce back to a nominal scale of business. People began to visit the destination as the first wave of COVID-19 slowed its pace and the number of cases went down significantly following the great festival season in Nepal.
"Tourism and hotel business increased significantly in the last week of Chaitra and first week of Baisakh," said Bikash Lama, a forest guard at Baghmara Buffer Zone Community Forest Users Group.
According to him, tourist flow had increased due to the New Year season, and elephants and jeeps for jungle safari were on short supply. Sauraha and the Rapti River bank were full of people who came here to celebrate the New Year 2078.
Many hotels and safari businesses told The Rising Nepal that business is almost restored although it was not up to the normal situation.
Santu Lama, an elephant rider, said that they had as many as seven elephant trips in a day which was the maximum. An elephant safari can last from 1.5 to 3 hours. There are about 45 private elephants reared by the hotels in Sauraha that are used for the jungle safari in buffer zone jungles.
Likewise, there are 40 jungle jeep safari companies. There is no impact of coronavirus on tourism during the New Year season, said Buddhi Bomjon, proprietor of Florican Jungle Tour that offers elephant and jeep safari and other services to the tourists.
However, the confidence is shaking with the growing infection rate and government restrictions, he maintained.
Excursions to Sauraha
On Saturday, students of Saraswati Secondary School of Dakaha in Sindhuli district were on education tour to Sauraha.
Likewise, a couple of cooperatives had also brought their members to the one of the most famous tourism destinations in the country for the excursion while a group of women was enjoying the scene of the Rapati River and beyond.
Sauraha is famous for jungle walk, bird watching, Chepang Hill trek, elephant safari, jeep safari, canoeing, sunset view, campfire and Tharu culture. With these activities, it can engage tourists for more than a couple of days.
Concerns to safety
Brabim Bartaula, who came to Sauraha from Hetauda of Makwanpur district to enjoy the elephant safari, jeep safari and other fun activities, said that although there is a slight fear in them, they wanted to travel and enjoy.
"We have come here in a family trip to enjoy the nature," he said.
However, Bartaula and many other domestic tourists expressed concerns to the weak adherence to the coronavirus safety measures. Many local tourists looked more carefree saying that the government has let all businesses and people to act freely.
"We must not forget that the fear of the COVID-19 is not over. Observing the activities in Sauraha, other tourist destinations and markets, one feels that there is no coronavirus fear. There is no adherence to safety measures and people do not care much about it," said Bartaula.
Sauraha has more than 110 hotels of various levels and dozens of local and multi-cuisine restaurants that have employed more than 3,500 individuals. About 30 per cent employments were affected by the COVID-19, many of them currently engaged in self-employment, said Suman Ghimire, Immediate Past President of Regional Hotel Association, Chitwan.
According to him, since most of the domestic tourists visit Sauraha and return in the evening, the hotels had less business after the pandemic. He said that the New Year rush was an expected phenomenon, otherwise Sauraha witnesses fewer tourists during the summer.
Fresh challenge
The increased contagion of coronavirus and government restrictions will surely impact the business in Sauraha.
Ghimire said that it was easier for the hotel and tourism entrepreneurs to receive customers since the fear of coronavirus was diminishing in the public but the government restrictions would create a fresh challenge to them.
Forest Guard Lama said that businesses are prepared to operate with the safety measures like sanitizer, masks and social distancing but no one is in a mood to shut down the businesses completely.