Farmers' commission asks for ban on import of Self-Reliant items
June 8, 2021 | 9:16 pm&nbsp&nbsp&nbsp&nbsp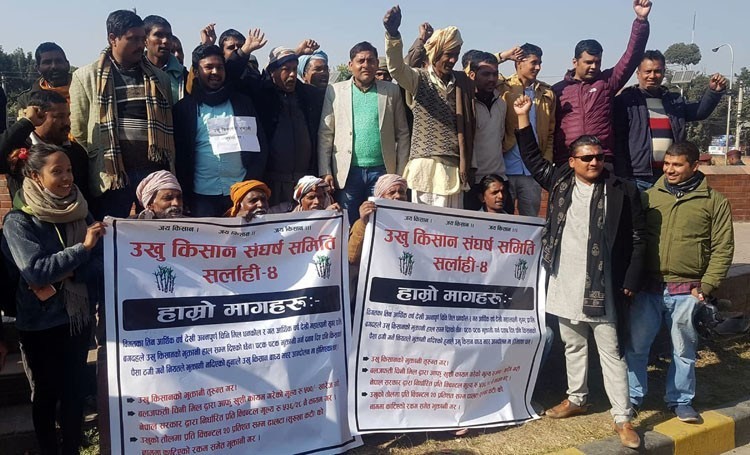 Kathmandu / June 8: National Farmers' Commission has suggested the government banning imports of those goods on which Nepal is now self-reliant.
The commission has submitted a 26-point recommendation after holding a comprehensive discussion with the stakeholders.
The statement of the commission issued after the discussion asked for 75 percent grant in electricity used in the activities of fertilizer, irritation and storage, and loan at 2 percent interest to increase investment in agriculture.
The commission suggested that there should be tax waiver on agriculture equipment, provision of ration card for food and daily essentials to poor farmers and proportion of budget based on the contribution of agriculture.
It has appealed to the government to provide loan at concessional rate to milk producing farmers, traders and dairy enterprises.
It has urged that government to provide fertilizer and seeds at the earliest.
It has urged for facilitating the supply of fertilizers in time. It has informed that farmers did not get the amount from dairies for four months and urged the concerned to pay the amount in time.
The commission has also recommended to establish a fund within the framework of National Dairy Development Board to provide relief package to manage this kind of crisis in future.
It has urged to expand and continue the provision of 75 percent grant to agriculture and livestock and fix the minimum support price of rice.
The commission has asked for easy loan at concessional rate, insurance facility, and relief package for poultry farming and to review the customs duty on import of raw materials of feed industry and fix customs tax keeping in mind welfare of the domestic producers of corn and other raw materials for feed.