"Nepal's foreign policy is friendly towards all," reaffirms PM Dahal
November 9, 2016 | 9:43 pm&nbsp&nbsp&nbsp&nbsp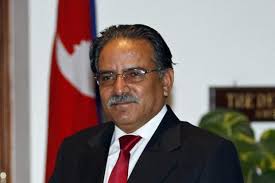 Kathmandu / Nov 9: Prime Minister Pushpa Kamal Dahal has stated that Nepal's foreign policy embodies the sentiments of 'friendship towards all and enmity towards none.'
Inaugurating the one-day 'Trans-Himalayan Cooperation beyond Trilateral Discourse' seminar organized by the Development Institute (DI) here today, PM Dahal reassured that the friendship, trust and mutual understanding were the basic principles of the country's foreign policy.
Underscoring the need for connectivity from Kailash Manasarovar to Pashupatinath to Lumbini and Varanasi to promote religious tourism, PM Dahal called for the trans-Himalayan cooperation for the same.
Stating that the foreign policy of our immediate neighbours India and China had attached priority to their neighboring nations, Dahal acknowledged that it was a pleasant opportunity for Nepal to head in the path of prosperity by maintaining cordial and harmonious relations with these two neighbours.
The PM argued, "From the business perspective, Nepal could serve as an important transit corridor for which investment in infrastructure build-up such as development of multilane highways and railways connecting the economic giants as India and China should be emphasized."
Dahal was hopeful that the construction of trans-Himalayan roadways and railways would be realized within few decades as he reckoned that these sectors would provide impetus to economic prosperity.
Reiterating his effort towards forwarding trilateral cooperation among Nepal, India and China, PM Dahal stated that the sole aim of the trans-Himalayan cooperation was to pursue collaborative development projects.
Furthermore, the PM pressed for mutual cooperation and concerted efforts to fight the common problems such as poverty, unemployment, climate change and terrorism.
He also opined that the trans-Himalayan cooperation could further strengthen people-to-people ties and traditional cultures, civilization and trade among these three countries.
Similarly, CPN (UML)'s secretary Pradeep Gyawali insisted on developing Kathmandu as a trade transit point between India and China. He said, "Nepal should always adopt a balanced foreign policy to maintain the trust of India and China towards it."
Nepali Congress leader Dr Ram Sharan Mahat pointed out the need for establishing political stability along with the enforcement of the new constitution for the promotion of trade.
Institute Chair Bharat Mohan Adhikari said Nepal could reap benefits from its potential areas such as cash crops, cultural and recreational tourism, hydro and Himalayan water resources.
Adhikari was of the opinion that only harmony and cooperation among the nations of the region will ensure peace and prosperity for all. He added, "The proposed Trilateral Cooperation will not only benefit Nepal, India and China but will also open a new arena to the whole South Asia."
As Nepal has already two highways- Araniko and Syaphrubesi-Kerung that will connect it with China which is in the process of developing railway lines from Lhasa to Kerung that lies some 123 kms in distance from Kathmandu.
Various working papers prepared by thematic experts from Nepal, India and China will be presented during the seminar RSS