Oli to attend Modi's swearing-in in New Delhi on Thursday
May 28, 2019 | 8:41 pm&nbsp&nbsp&nbsp&nbsp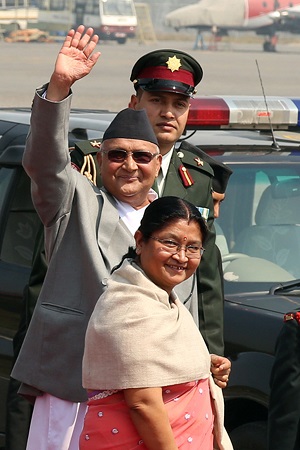 Kathmandu / May 28: Prime Minister KP Sharma Oli is leaving for New Delhi on Thursday to participate in the swearing-in ceremony of Narendra Modi, who starts his second term as India's prime minister after a resounding victory in the recently concluded parliamentary elections.
According to sources, the Indian government has already extended an invitation to Oli through the Embassy of India in Kathmandu.
In a departure from the last event five years ago when all SAARC leaders were invited for Modi's swearing-in, India this time has invited BIMSTEC leaders for the ceremony.
India, has, said this is in line with its "Neighbourhood First" policy.
"This is in line with Government's focus on its 'Neighbourhood First' policy," Reuters news agency quoted a spokesman of the Indian government as saying.
The Indian government's move of inviting BIMSTEC leaders—and not those from SAARC region—is largely seen as a move to give a snub to its arch-rival Pakistan
Days before elections in India it had become apparent that a return of Modi's Bharatiya Janata Party to power could mean a policy shift when it came to approaches to regional groupings.
The election manifesto of the Bharatiya Janata Party, unveiled in the first week of April, days before India went to polls, focused on expediting BIMSTEC (Bay of Bengal Initiative for Multi-Sectoral Technical and Economic Cooperation). The BJP's poll manifesto had dropped the mention of SAARC (South Asian Association for Regional Cooperation).
Nihar R Nayak, a research fellow at the Institute of Defence Studies and Analysis, had told the Post in April that SAARC could further plunge into deep trouble if the BJP won.
"If the BJP wins, SAARC may not be able to come out as a strong organisation and probably plunge into deep trouble," Nayak told the Post over the phone from New Delhi.
In the months leading up to the Indian elections, relations between India and Pakistan, the two nuclear-armed neihghbours, had gone frosty after a terrorist attack in February in Kashmir in which at least 40 Indian soldiers were killed.
Tensions escalated after India, in retaliation, launched airstrikes in the Pakistani territory.
SAARC, a regional grouping founded in 1985 in South Asia with eight members after the addition of Afghanistan in 2007, has for long been overshadowed by the rivalry between India and Pakistan.
The regional bloc, which Nepal currently chairs, faced a major setback in 2016 after India decided pulled out of the 19th summit in Islamabad, saying the environment was "not conducive" to hold the summit. The move was prompted by a deadly militant attack on Indian forces in Kashmir. Since then, the SAARC process has largely remained stalled.
Modi's swearing-in ceremony is scheduled for 7pm on Thursday. According to sources, Oli is scheduled to arrive in the Indian Capital on Thursday itself due to the budget announcement at home on Wednesday. He will return home on Friday. Courtesy: ekantipur.com