Mankamana Orange Farmers Making Handsome Returns
December 29, 2019 | 9:07 pm&nbsp&nbsp&nbsp&nbsp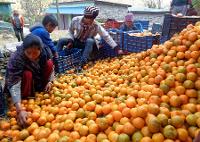 Gorkha / Dec 29: A farmer of Manakamana earned Rs. 1.15 million from the sale of oranges this year alone.
Insan Thapa Magar has been doing commercial farming of oranges at around 45 ropanis of land. There are around 1,000 orange trees at his garden. He had planted 1,200 orange trees in the initial phase.
"I sold oranges worth Rs. 1.15 million this year while I had sold oranges worth Rs. 800,000 last year. The quality yield increased my income even though the overall production of orange have decreased," he said.
"The trend of orange tree dying is increasing every year due to the diseases and lack of irrigation facilities. Orange gardens of many people have turned barren. But I am able to preserve trees by providing them with various treatment to the best of my ability," he said.
Likewise, Bhagawati Thapa of Manakamana has given orange garden in contact worth Rs. 750,000 this year. She sold oranges worth Rs. 700,000 last year. Around 700 orange trees are found in her garden. Of them, 450 trees are giving yield.
Some farmers who have been effortful to care their gardens are able to receive good income, though the overall production of oranges in Manakamana has decreased this year.
The farmers of the sector would sale oranges worth Rs. 40 million this year while they had sold oranges worth Rs. 60 million during 2018 and Rs. 80 million in the 2017.
Chairman of Small Farmer Agriculture Cooperatives, Krishna Babu Shrestha said that the production of oranges in the area was declining every year due to diseases and insects and lack of irrigation facilities.
He said that the Orange Zone programme supported the farmers but it was not sufficient.
Chief of Orange Varieties Fruits Zone Office Gorkha Ajaya Adhikari said that they were working to collect the data of oranges production in the district.
He said that they were trying to address the problems of the orange sector and expected to increase its production in the days to come.
According to farmers, income of the farmers from the sale of oranges has increased due to increase its price this year compared to the last year even reduced the overall production.
The price of big size orange is Rs. 100, medium at Rs. 90 and small size at Rs. 70 to Rs. 75.
Chairman Shrestha said that the trend to sell oranges to the contractors arrived from outside the district has almost stopped and the locals are supplying oranges to the market.
Almost all farmers are getting additional price of Rs. 5/7 per kilogram, he said. The wholesale price of oranges is Rs. 80 to 85.