457 people suffering from Covid-19; 49 discharged
May 21, 2020 | 9:39 pm&nbsp&nbsp&nbsp&nbsp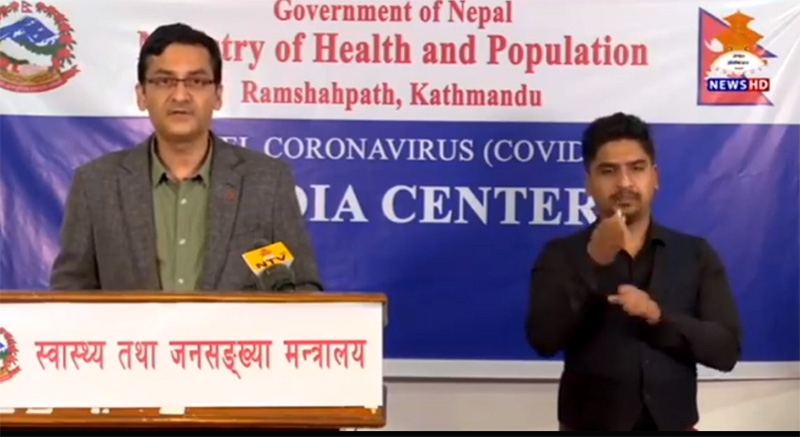 Kathmandu / May 21: The Ministry of Health and Population (MoHP) has confirmed three more COVID-19 cases in Banke and Kapilvastu today, taking the national tally to 457.
32-year old male of Narainapur-3 and 42-year old female of Khajura-3 of Banke district and 19-year old male of Suddhodhan Rural Municipality, Kapilvastu tested COVID-19 positive today, informed the health ministry by issuing a press statement.
Their Polymerase Chain Reaction (PCR) test was done at Bheri Hospital, Nepalgunj and Rupandehi Provincial Public Health Laboratory.
Health condition of all patients is normal and they are in contact with health workers, the ministry said.
Four COVID-19 patients discharged from Teku Hospital
Four COVID-19 patients were discharged from the Teku-based Shukraraaj Tropical and Infectious Disease Hospital on Thursday afternoon after they tested negative for the virus in two consecutive tests in the last 24 hours.
According to Sagar Rajbhandari, director at the Teku Hospital, of the four patients, two are male and two are female.
"Now, we have only one patient in the isolation ward of the hospital. The health condition of the patient is normal. So, another patient might also be discharged soon," he said, adding that the discharged patients are from Kathmandu and Bhaktapur district.
With this, the number of patients who have recovered from the viral disease has reached 49. As of Thursday afternoon, Nepal has reported 444 COVID-19 cases, with three deaths.