Lumbini Buddhist University conducts 'Door-to-Door' exams
September 17, 2020 | 8:51 pm&nbsp&nbsp&nbsp&nbsp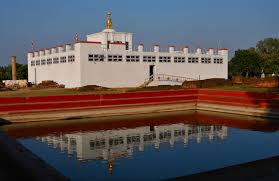 Laxman Poudel / Bhairahawa, Sept 17: The suspended examinations of the Lumbini Buddhist University are being conducted in the 'door to door' model.
The Lumbini Buddhist University (LBU) has started conducting the examinations, which were suspended due to the COVID-19 pandemic and the lockdown, by managing the exam centres near the homes of the students.
"The suspension of examinations has raised uncertainty and increased pressure on the students like me. But with the arrangement for taking the examinations from the centre located near my house, it has been really helpful," said Amisha Lamsal, an examinee of BA-LLB under LBU.
The university has managed to conduct the digital examination of the Masters Level students and the traditional hand-written examination for Bachelors Level.
As per the university officials, one examination centre accommodates no more than 15 students. The university has bachelor level courses for BTTM, BALLB and Bhot Buddhist Studies.
"The exam for Masters Level has also begun. As the examinations have been suspended twice and further delay would affect the students' academic session, we decided to conduct it at the earliest by abiding by the health security guidelines," said Tilak Acharya, registrar at LBU.
A total of 20 exam centres have been fixed for the examinations in Rupandehi, Kapilvastu, Nawalparasi, Kathmandu and Humla districts. The exam centres have been selected to provide convenience to the students nearby.
According to Acharya, one centre has been managed in Humla Campus for a single student of BA.LL.B.
"The campus chief will be provided with the question through the mail and the chief would invigilate the exam and email us back the answer sheet," said Acharya.
Only in Butwal, the university has allocated eight different exam centres.
The students are kept at a distance of two metres and the university has managed gloves, masks and sanitisers in all the exam centres. Every day, the examination halls are sanitised and the health personnel are deployed to examine the students' fever.
"I was scared to arrive in the examination centre due to the risk of COVID-19 transmission. But the university had implemented the safety guidelines effectively," said Ashma Pandey, another examinee.