Prez Bhandari authenticates two ordinances on acid attack
September 28, 2020 | 8:41 pm&nbsp&nbsp&nbsp&nbsp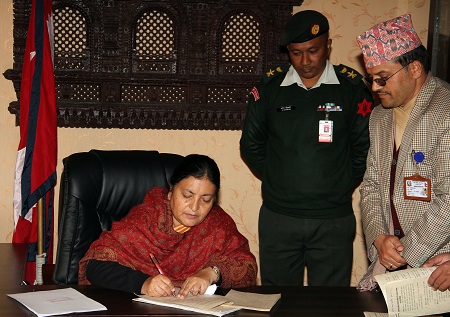 Kathmandu / Sept 28: President Bidya Devi Bhandari on Monday authenticated two ordinances at the recommendation of the Council of Ministers.
The president, in accordance with Article 114 (1) of Nepal's Constitution, endorsed 'Ordinance to amend Criminal Offence and Criminal Procedures Act, 2020' and 'Ordinance to regulate acid and other harmful chemicals, 2020', according to a press statement issued by the Office of the President.
The Cabinet on September 25 had endorsed the ordinances in an apparent bid to punish the perpetrators involved and discourage such incidents. One of the provisions includes a jail term of upto 20 years and fine of Rs 1 million against the acid attackers depending upon the damage caused by the attack.
The new law also states that shops selling and distributing acid will have to acquire a license after receiving permission from the district administration. The license must also be renewed annually.
Meanwhile, President also certified another ordinance brought forth to make the first amendment to 'the Nepal Police and Province Police (Office Operation, Supervision and Coordination)', according to the spokesperson at the President's Office, Hari Prasad Dahal.