COVID-19 death toll crosses 1,000 mark, 3,114 new infections in last 24 hours
November 3, 2020 | 9:32 pm&nbsp&nbsp&nbsp&nbsp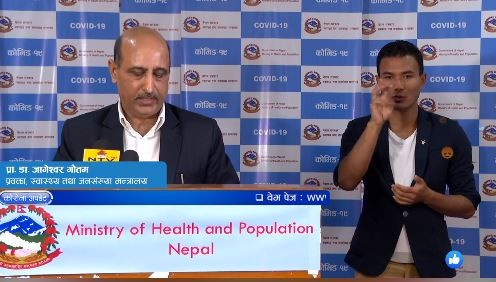 Kathmandu / Nov. 3: With 3,114 new cases of the novel coronavirus confirmed on Monday, the national COVID-19 tally has surged to 179,614.
"As many as 3,114 persons were found to have been infected with the virus in the last 24 hours," revealed the Ministry of Health and Population (MoHP) in its update.
Meanwhile, 3,142 persons receiving treatment at various health institutions or staying in home isolation recovered from the infection in the last 24 hours. Nepal has recorded 141,134 cases of recoveries until now.
Currently, there are 37,476 active cases of COVID-19 and 1,277 are placed in quarantine across the nation.
Meanwhile, 20 people succumbed to the infection in the last 24 hours. With this, Nepal's COVID-19 death toll has crossed 1,000's mark and reached 1,004.
Kathmandu valley records 1,468 additional Covid-19 cases on Tuesday
A total of 1,468 new cases of coronavirus infection were reported in the three districts of Kathmandu Valley on Tuesday.
Among the newly infected, 649 are females while 819 are males.
Likewise, in the last 24 hours, 1,242 cases were recorded from Kathmandu district while Lalitpur and Bhaktapur reported 163 and 63 cases respectively.
The number of active cases in Kathmandu is 15,863. Similarly, Lalitpur has 2,264 live infections while Bhaktapur has 1,019 active cases.