NRA sets 'final' deadline to collect grants for reconstruction of houses destroyed in 2015 quake
November 7, 2020 | 10:23 pm&nbsp&nbsp&nbsp&nbsp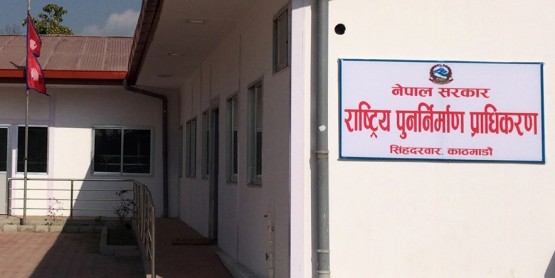 Kathmandu / Nov 7: The National Reconstruction Authority (NRA) has set the final deadline to receive the housing grant for those who lost their houses in the earthquakes of 2015.
The executive committee meeting of the NRA held on Friday set the deadline as the five-year term of the authority nears an end.
According to the decision, all eligible housing grant and retrofitting beneficiaries will now have to sign the agreement with the NRA by December 15 and acquire the first tranche of the grant by December 30.
Those beneficiaries who have already received the first tranche of the housing reconstruction grant must start reconstruction and apply for the verification in their respective local unit by February 12 next year to receive the second tranche of the housing grant.
All eligible beneficiaries of the housing and retrofitting grants should apply at their respective local units for the verification by May 14 next year to collect the third or last tranche of the housing grant.
NRA officials say this would be the final deadline for the housing grant beneficiaries to complete the retrofitting or reconstruction of their houses damaged by the 2015 earthquake.
"Since the NRA's five-year tenure is coming to an end, this would be the final deadline. So, we request all eligible house reconstruction or retrofitting grant beneficiaries to complete agreement as soon as possible or apply at the local unit to collect the remaining housing grants," said Manohar Ghimire, an undersecretary at the NRA.
According to the NRA, it has signed grant agreements with 791,767 beneficiaries out of 834,911 eligible beneficiaries for housing grants. Only 605,083 beneficiaries have received the third tranche with 507,623 houses reconstructed.
Many beneficiaries among 784,950 have reportedly not started the reconstruction and applied for the second tranche of the grant.
The government provides a total of Rs 300,000 in housing grants in three tranches — Rs 50,000, Rs 150,000 and Rs 100,000 — to eligible beneficiaries to reconstruct their houses destroyed by the earthquakes in 2015.