COVID-19 update: 2,753 new cases, 2,206 recoveries and 17 deaths in 24 hours
November 7, 2020 | 10:24 pm&nbsp&nbsp&nbsp&nbsp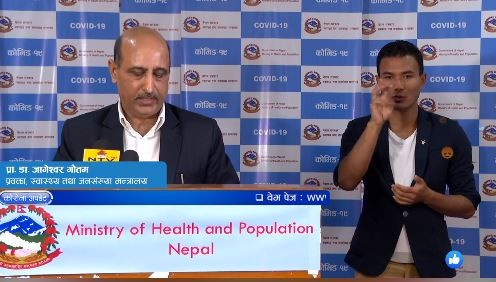 Kathmandu / Nov. 7: With 2,753 new cases of the novel coronavirus confirmed on Saturday, Nepal's COVID-19 tally has spiked to 191,636.
According to the daily report of the Ministry of Health and Population (MoHP), currently there are 35,435 active cases of COVID-19. Some 1,144 persons, mostly those who had returned from abroad, are placed in quarantine.
Meanwhile, some 2,206 COVID-19 patients either receiving treatment in various health facilities or staying in home isolation recovered from the infection in the last 24 hours. With this, Nepal has recorded 155,114 cases of recoveries until now.
Moreover, 17 persons succumbed to the novel coronavirus infection in the last 24 hours. Nepal's COVID-19 death toll has now reached 1087.
Kathmandu valley records 1,512 additional Covid-19 cases on Saturday
A total of 1,512 new cases of coronavirus infection were reported in the three districts of Kathmandu Valley on Saturday.
Of the total infections, 625 are females and 887 are males.
In the last 24 hours, 1,294 cases were recorded from Kathmandu district while Lalitpur and Bhaktapur reported 141 and 77 cases respectively.
The number of active cases in Kathmandu is 15,455. Similarly, Lalitpur has 2,191 live infections while Bhaktapur has 1,216 active cases.