Bellyful of food at just Rs. 20 at Bheri Hospital
November 8, 2020 | 8:39 pm&nbsp&nbsp&nbsp&nbsp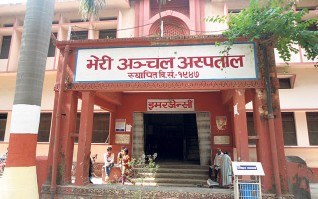 Gobinda Sharma / Banke, Nov.8: Patients as well as people accompanying patients are being provided with bellyful food at just 20 rupees in Bheri Hospital, Nepalgunj.
The number of people coming for food has been increasing each day in the campaign introduced by the Nepalgunj Sub-Metropolitan City and Shree Sundar Kanda Mitra Mandal.
Sundar Gupta, patron at Sundar Kanda Mitra Mandal, said, "We have the capacity of feeding four hundred people a day."
As many as 150 people have been eating food a day at present, he informed.
Over a hundred people from different districts of the western part of the country come for COVID-19 treatment in Bheri Hospital on a daily basis.
Mitra Mandal said it started to provide a bellyful food in just rupees 20 to destitute people, patients being treated in the hospital and those accompanying patients.
Dr. Dhabal Samsher Rana, Mayor of Nepalgunj Sub-Metropolitan City, said, "The local government is always ready to extend assistance for the humanitarian work."
Mayor Rana who arrived on the spot on Sunday, said," It is virtuous to give a good food at 20 Rupees, and added, there should be help from everyone in this nobel work"
The activity of providing food goes on from 10 AM to 1 PM every day except for Saturday in the hospital compound.
After reaching and eating the food at 20 rupees at Bheri Hospital on Sunday, Ram Bahadur Kurumbang, Chief District Officer (CDO) of Banke, said, that the quality of food provided here was good.
This should be given continuity, said the CDO, for the humanitarian work, there should be support by those who are able.
Nepalgunj Sub-Metropolis City has been contributing Rs. 50,000 monthly in the campaign while other expenses have been managed by Mitra Mandal from donors.