Nationwide 1,477 new COVID-19 cases reported in past 24 hours
November 15, 2020 | 7:40 pm&nbsp&nbsp&nbsp&nbsp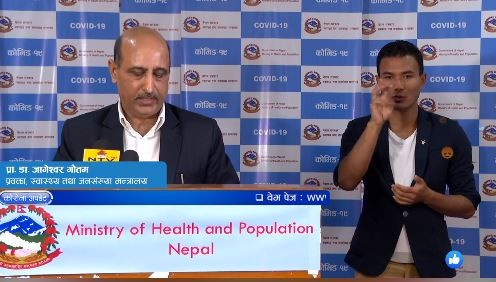 Kathmandu / Nov 15 : A total of 1,477 new cases of COVID-19 have been reported in the country in the past 24 hours taking the COVID-19 caseload to 209,776 till date. The Ministry said that a total of 6,476 RT-PCR tests were conducted in the past 24 hours across the country.
According to the Ministry of Health and Population, altogether 173,430 COVID-19 patients have got full recovery till date while the number of active cases of the coronavirus infection is 35,125 in the country.
In the last 24 hours, a total of 2,798 COVID-19 patients recovered for the disease and returned home.
In the past 24 hours, a total of 807 cases were found in Kathmandu Valley including 632 in Kathmandu, 133 in Lalitpur and 42 in Bhaktapur district.
The death toll from this flu-like infection across the country stands at 1,221 with 6 fresh deaths reported in the last 24 hours, according to the Ministry.
The Ministry stated that the recovery rate of the coronavirus patients is 82.7 per cent.