Lumbini, birthplace of Buddha, re-opened for tourists from today
November 18, 2020 | 8:41 pm&nbsp&nbsp&nbsp&nbsp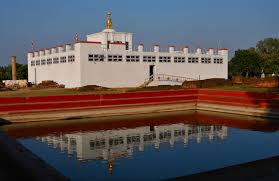 Deepak Gyawali / Butwal, Nov. 18: Lumbini, the birthplace of the Buddha, has been opened for tourist from today.
Saroj Bhattarai, chief of the planning of Lumbini Development Trust (LDT), informed that a meeting of the office bearers of the LDT decided to open touristic spots of Lumbini as per the decision of the government to open tourist places for tourism.
Lumbini area was closed since March 24 fearing spread of COVID-19.
With this decision, tourists will now be able to visit places including Ashoka Pillar, Pushkarini Pond and Garden in the Maya Devi temple premises.
However, the Maya Devi temple is still closed even though the Lumbini premises is opened.
Bhattarai said that no decision was made to open the temple for the time being.
He said that adherence to health standard was compulsory for both domestic and foreign tourists, where, putting on face masks has been made mandatory as well.
Facilities have been set up for temperature measurement, hand washing in different places in Lumbini premises. The security officials and officials of the fund will monitor the health safety standards.
The LDT has been imparting trainings to taxi and rickshaw operators carrying tourists to avoid COVID-19 infection and adopt safety measures.
Hoteliers and tourism related businessmen in the Lumbini area have repeatedly demanded that the Lumbini area be reopened citing the loss in business.
Meanwhile, to attract tourists, the Lumbini area has been decorated and cleaned up during the lockdown period.