COVID-19 Update: 1945 new cases, 5364 recoveries and 22 fatalities in 24 hours
November 20, 2020 | 7:45 pm&nbsp&nbsp&nbsp&nbsp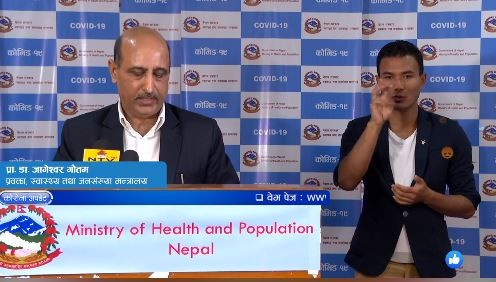 Kathmandu / Nov. 20: Nepal's Health Ministry, in its regular press briefing, shared the latest updates on coronavirus contagion from across the country, and government's response to the health crisis.
Till date, 1,643,899 tests through Polymerase Chain Reaction (PCR) method have been carried out wherein 10,340 tests were performed in the last 24 hours.
At present, there are 753 people under quarantine in various facilities across the country. The number of active cases in Nepal is 24,665.
1,945 new cases of the coronavirus infection were registered today taking the national tally to 216,965.
As many as 5,364 persons earlier diagnosed with the disease have tested negative in the last 24 hours. With the recent addition, the national COVID-19 recovery tally has now reached 191,002.
Meanwhile, 22 more fatalities were confirmed by the Ministry today, with which the COVID-19 death tally has now reached 1,298.
As of today, the country has witnessed 216,965 cases of the coronavirus infection while 191,002 people have recovered from the disease. Meanwhile, 1,298 COVID-19 fatalities have been confirmed.
Kathmandu valley records 1,107 new cases
The Ministry of Health and Population (MoHP) on Friday confirmed 1,107 new cases of COVID-19 in Kathmandu Valley.
Of the total 1,945 new infections recorded across the nation on Friday, 1,107 new cases, 484 females and 623 males, were recorded in the Kathmandu Valley itself, revealed the MoHP in its daily update.
Currently, there are 9,681 active cases of COVID-19 in Kathmandu. The capital city's COVID-19 tally stands at 81,588 including 71,591 cases of recoveries and 316 fatalities.
Likewise, Bhaktapur has recorded 7,336 infections until now of which, 6,490 patients have already recovered while 83 succumbed to the infection. There are 783 active cases in Bhaktapur.
Lalitpur district has recorded 11,948 cases of novel coronavirus infection until now including 9,631 recoveries and 89 deaths. Currently, there are 2,228 active cases in Lalitpur.