'Visit Sauraha Campaign' to attract tourists; Attractive offer for mountain flight
November 29, 2020 | 7:12 pm&nbsp&nbsp&nbsp&nbsp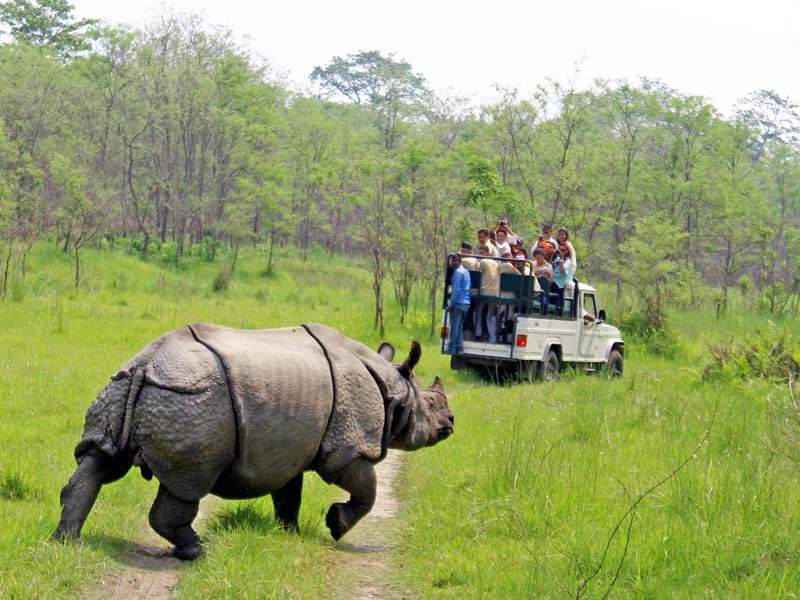 Ratnanagar / Nov 29 : The tourism entrepreneurs and other stakeholders in Chitwan have decided to launch 'Visit Sauraha' campaign in order to revive the tourism industry dented by the Covid-19 pandemic for long.
District Coordination Committee, Ratnanagar Municipality, Regional Hotel Association Sauracha chapter are jointly launching the campaign, giving a message that 'Sauraha is safe'.
The tourism entrepreneurs are all set to work in coordination for the campaign. They will reach all seven provinces and make people aware that Sauraha is safe.
They began reopening the hotels and restaurants since the Tourism Day.
Chairman of Regional Hotel Association Sauraha chapter, Dipak Bhattarai, said although they had planned to launch the campaign before Dashain festival, it was delayed because of Covid-19.
He informed that people from various cities across the country would be invited to visit Sauraha. One of the major tourist hubs in the country, Sauraha, has seen scant arrival of tourists in the recent days.
"We had expected that Sauraha would see tourists' arrival during Dashain and Tihar but in vain. We're prepared to ensure safety to tourists by adhering to the health protocols. However, there are very few tourists here," Bhattarai shared the plight.
The arrival of tourists is only five to seven percent now. The severe decline in tourism activities has resulted in joblessness and closure of business, according to him.
In normal time, it is the peak season for tourism in Sauraha. Hotels used to be packed, entrepreneurs busy on welcoming and guiding tourists in Chitwan National Park.
Now, the hoteliers have announced the discount of 25 to 30 percent as Covid package.
Comparatively, restaurants attract more tourists. Of the total tourists, restaurants occupy some 30 percent, said Chairman of Restaurant and Bar Association Nepal Sauraha, Dipendra Khatiwada.
Attractive offer of Private airlines for mountain flight
There has been a neck-to-neck competition among the private airlines companies in the country to attract as many as passengers for the mountain flight that has resumed after eight months.
Buddha Air and Yeti Airlines have launched various offers with attractive discounts for the mountain flights. Both private airlines companies have announced to provide one free ticket in purchase of one ticket for the flight.
Targeting the domestic tourists, the air service provider companies have announced that they would commence mountain flights beginning from December 5 this year and such flights would be held every Saturday.
Buddha Air has, however, already begun its mountain flight since October 30. A total of 18 passengers were there in that flight. Yeti Airline's Flight Security Department Chief and Spokesperson Sudarshan Bartaula shared that the discount offers was aimed at reviving the tourism sector that has been badly affected by Covid-19.
The price for 30-minute long mountain flight is fixed at Rs 8,999, according to the press statement released by the both airlines companies here today. Tickets could be purchased from ticket counter, travel agencies, website and mobile App.
The mountain flight offers aerial view of mountains such Sagarmatha, Makalu, Nutpse, Gaurishanker among other. This offer is applicable to the Nepalis citizens at this moment.
All the commercial flights were suspended since the nationwide lockdown imposed on March 24 onwards to contain the spread of Covid-19. The domestic flight resumed from September 21 while international flights resumed since September 1. RSS