403 new COVID-19 cases, 594 recoveries and seven fatalities
January 4, 2021 | 8:57 pm&nbsp&nbsp&nbsp&nbsp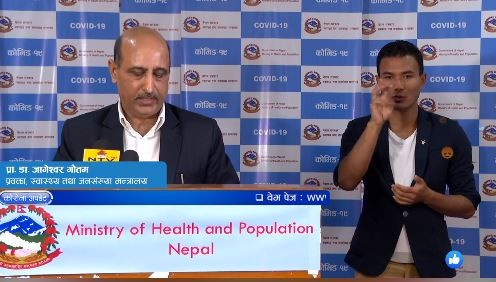 Kathmandu / Jan. 4: With 403 new cases of the novel coronavirus confirmed on Monday, the national COVID-19 tally has reached 262,262.
"In 4,401 Real-Time Polymerase Chain Reaction (RT-PCR) tests done in the last 24 hours, 403 persons were found infected with SARS-CoV-2," informed the Ministry of Health and Population (MoHP) in its daily update.
At the same time, 185 infections including 82 females and 185 males were recorded in the Kathmandu Valley.
Currently, there are 5,287 active cases of COVID-19 across the nation of 1,774 patients are in home isolation. Some 209 COVID-19 patients are admitted to the ICU and 34 are receiving treatment with ventilator facility
A total of 342 persons, mostly those who had returned from abroad, are placed in quarantine.
Meanwhile, 594 COVID-19 patients receiving treatment in institutional isolation or staying in home isolation recovered from the infection in the last 24 hours. Nepal has now recorded 255,088 cases of recoveries and the recovery rate stands at 97.3 percent.
A total of seven people succumbed to the deadly virus in the last 24 hours and with this, the national COVID-19 related death tally has reached 1,885.
Kathmandu valley logs 185 new cases on Monday
The three districts of Kathmandu valley recorded 185 additional cases of coronavirus infection, on Monday.
Of the newly infected, 82 are females while 103 are males.
Kathmandu district alone witnessed 140 cases of infection while Lalitpur and Bhaktapur reported 21 and 24 cases, respectively.
At present, there are 2,512 active Covid-19 cases in Kathmandu while number of the same in Lalitpur is 316 while that in Bhaktapur is 134.
As many as 475 people have lost their lives to Covid-19 in Kathmandu. Likewise, 147 fatalities have been reported in Lalitpur and 107 in Bhaktapur, so far.
Meanwhile, total number of people who have recovered from the disease in Kathmandu is 94,761 while 14,888 have recovered in Lalitpur and 8,701 in Bhaktapur.
Today, 403 new cases of coronavirus infection surfaced in the country following which the nationwide Covid-19 tally has reached 262,262. Seven fatalities have been reported in the last 24 hours with which the nationwide death-toll from the disease has advanced to 1,885.
Kathmandu is the only district with over 500 active cases in the country. On the contrary, Sunsari, Solukhumbu, and Mugu are the three districts with zero live infections, as of today.