266 new cases of COVID-19; suspects entering Valley to undergo Antigen Tests
April 5, 2021 | 9:15 pm&nbsp&nbsp&nbsp&nbsp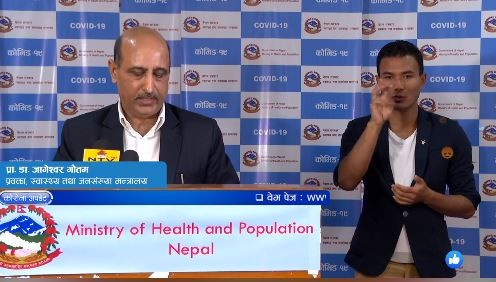 Kathmandu / Apr. 5: The Ministry of Health and Population on Monday confirmed 266 new cases of COVID-19, taking the nation's novel coronavirus tally to 278,210.
"In 4,536 Real-Time Polymerase Chain Reaction (RT-PCR) tests done in the last 24 hours, 266 persons were found infected with SARS-CoV-2," informed the Health Ministry in the regular press briefing.
Of the new infections, seven were reported in Province 1, five in province2, 201 in Bagmati Province, 24 each in Gandaki and Lumbini Province and five in Sudurpaschim Province. No cases of novel coronavirus infection were reported in Karnali Province.
Currently, there are 1,832 active cases of COVID-19 across the nation and 64 people mostly those who had returned from abroad, are placed in quarantine.
Meanwhile, 102 COVID-19 patients receiving treatment in institutional isolation or staying in home isolation recovered from the infection in the last 24 hours. Nepal has now recorded 273,342 cases of recovery and the recovery rate is at 98.3 per cent.
Moreover, four virus-related fatalities were confirmed across the nation in the last one day. Currently, the death toll is at 3,036.
COVID-19 suspects entering Valley to undergo Antigen Tests
People entering the Kathmandu Valley might have to undergo the antigen test at the entry points.
The meeting of District COVID-19 Crisis Management Committee, Kathmandu, held on Sunday took decision to this effect.
Kali Prasad Parajuli, Chief District Officer of Kathmandu said, "The concerned municipality should make arrangements to install health desk for performing health checkups and antigen tests at the entry points to the valley."
"For now, the COVID-19 antigen test has not been made compulsory for all commuters. Only those who show the symptoms of the virus infection will have to take the antigen test," said Parajuli.
Considering the increasing threat of spread of COVID-19, temperature tests have been done on those entering the Valley since the last few days.
CDO Parajuli said, "The officials deployed by the public health offices at the health desks in the bordering points have been measuring the temperature."
He added that efforts were being made by the District Administration Office, Kathmandu, to prevent the spread of virus in the Valley.