Govt. striving to procure vaccines from six Nations; 3,702 new cases and 109 fatalities in 24 hours
May 30, 2021 | 9:24 pm&nbsp&nbsp&nbsp&nbsp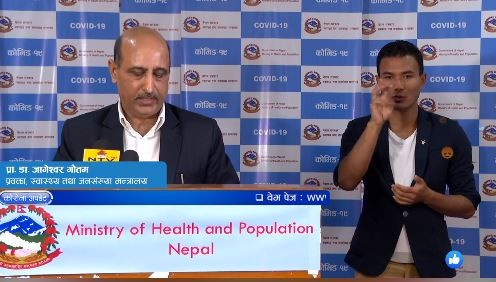 Chhetu Sherpa / Kathmandu, May 30: The government has informed that efforts are being made to procure vaccines against COVID-19 as soon as possible.
According to Dr. Samir Kumar Adhikari, assistant spokesperson at the Ministry of Health and Population, a procedure was underway to procure vaccines from four nations including China and India.
"Similarly, we are also holding discussions to buy vaccines from Norway, Russia, the UK, and the USA," he said.
Similarly, according to the Health Ministry, 3,248,000 doses of vaccines brought from India and China have been administered across the nation until now on a priority basis.
"A total of 72 per cent of citizens across the nation are yet to be administered for which, 21,700,000 doses are needed," said Dr. Adhikari.
Dr. Adhikari added that the vaccines were expected to be made available soon as the government had been holding dialogue with six nations. "The MoHP has also requested the government to make the vaccines available at the earliest by all means," added Dr. Adhikari.
Meanwhile, President Bidya Devi Bhandari has also requested her USA counterpart President Joe Biden to lend help by providing COVID-19 vaccines.
3,702 new cases of COVID-19, 6,205 recoveries and 109 fatalities in 24 hours
With 3,702 new cases of COVID-19 confirmed on Sunday, the nation's novel coronavirus tally has reached 557,124.
In 10,986 Real-Time Polymerase Chain Reaction (RT-PCR) tests done in the past 24 hours, a total of 3,702 persons were found infected with SARS-CoV-2, informed Dr. Sameer Kumar Adhikari, assistant spokesperson at the Ministry of Health and Population in the regular press briefing.
Likewise, out of 1,784 antigen tests done on the last day, the virus infection was detected in 667 people.
Of the new cases, 1093 infections were recorded in the Kathmandu Valley including in 113 Bhaktapur, 176 in Lalitpur and in 804 Kathmandu.
Currently, there are 108,897 active cases of COVID-19 across the nation of which, 7,563 are admitted to various institutional isolations and 101,334 are placed in home isolation. Likewise, 763 people mostly those who had returned from abroad, are placed in quarantine.
Of the active patients, 1,545 are admitted to the ICU, and 407 are under treatment with the ventilator facility.
Meanwhile, 6,205 COVID-19 patients receiving treatment in institutional isolation or staying in home isolation recovered from the infection in the last 24 hours. Nepal has now recorded 440,955 cases of recovery and the recovery rate is 79.02 per cent.
The Ministry of Health and Population on Sunday added 109 fatalities to the nation's COVID-19 death toll, which has now reached 7,272.