Learning with fun
September 24, 2015 | 12:39 am&nbsp&nbsp&nbsp&nbsp
Aide et Action International Nepal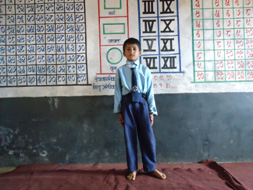 Diwas Gayak, 8, hails from class 3 in Prithvi Higher secondary School in Amalachaur village development committee (VDC) in Baglung district from Western Nepal. Being the first generation learner from a clan of underprivileged and illiterate gandharva (wandering singers/ minstrels) he feared the teachers more than anybody else. He never felt like going to classes and enjoyed playing with sarangi (musical instrument), means which his community's male elders use to entertain people playing on it and earning little money to support their families. It was not easy deciphering the alphabets written on the blackboard by the teachers. The grief of losing his father (who went missing while on his way to India in search of menial jobs) was still fresh on his mind.
He could not ask the teachers to repeat what they said once. The greatest relief he would feel on an ordinary day was running wildly along the trail homeward from school when the last bell of the school for day rang. He developed intense loathing for such education system which severely lacked in inspiration and motivation. Many a times, he even tried playing truant from school but got punished by his mother with multiple slaps on his face. The teachers ignored him and the friends avoided him. It was a hell of a school for him. Aggravating the situation more was his coming from a Dalit (untouchable) family. His classmates from the so -called upper caste families looked down upon him.
But things took a U turn one day when a young lady from a neighboring village, who was working as a social mobilizer under Back to Basics (B2B) project under Aide et Action Nepal's access and quality education (AQE) thematic, found him playing with pebbles in one of the secluded village trails on the way local school. The project seeks to enhance basic numeracy and literacy among the primary school children through sensitization, mobilization, capacity building of community collectives, school management committee, teachers' resource groups, teachers, and students. Greater community participation in school management and promotion of child friendly schools/classrooms are additional focus of the project.
When the B2B mobiliser accosted him, he cringed at first and gradually opening out to her and laid bare feelings of alienation and claustrophobia which he was living with for long. He had never felt comfortable at the school premises for he was one of the most silent pupils in the school.
He found a great savior and friend in the mobiliser and explained his deeply held fears about the institution called school. She hugged him and offered to help him in his studies. She also started visiting his school at frequent intervals and came to him with the same generous smile and helping hands. She inquired the teachers and his friends about his performance. At times she even helped children played with the children during the recess while at the school. Her love and care ignited confidence ignited his confidence. And lo! He started putting queries before the teachers and the teachers equally reciprocated. The school atmosphere changed for better and his teachers and friends turned friendlier and more cooperative than ever.
Diwas has now turned one of the brightest students from an incurable moron. He was declared the school board first during the annual results publication. His teachers from the so- called upper caste families pat him on his back and congratulate him and his friends jostle around him while playing and studying.
Now learning has become an activity full of fun for him. His illiterate and wage earning mother, Heera, 35, is ecstatic for her son's unexpected achievements which she ascribes to the continued efforts of the B2B community mobilizer who has inculcated the passion for learning in her son and played instrumental in bringing about a positive change in the school atmosphere , teachers and students. She has pinned high hopes on her son and has also begun to anticipate an assured support during her old age.
(Editors' Note: In this section we want to highlight the contribution made by different development agencies. We believe that despite negative criticism from different walks of life, they have done tremendous job for uplifting Nepali society. If you feel your organization has played important role for bringing smiles in the faces of people please contact us at editor@nepalekhabar.com. Source of this story: www.ain.org.np)