Court not place for seeking alternative to statute, says CJ Shrestha
January 15, 2016 | 9:28 pm&nbsp&nbsp&nbsp&nbsp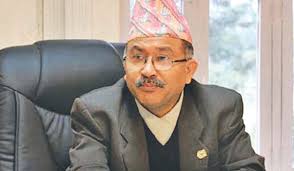 Gulmi / January 15: Chief Justice Kalyan Shrestha has underlined the need of taking the new constitution into the enforcement process rather than spending time in its discussions.
Inaugurating the newly constructed building of District Court Gulmi Friday, the Chief Justice argued the court was not the place for seeking an alternative to the constitution. The issue of searching for an option to the constitution fell into a political procedure.
The constitution itself was not dynamic, but it should be made active through its enforcement. The Chief Justice further said the country could never make strides in development if politics was done for just the sake of politics. Nevertheless, it should be focused on attaining development, justice delivery to the people and grasping progressive achievements.
Court has already accepted the constitution, the outcome of political understanding, he added. RSS