Seto Machindranath deity given grand holy bath
January 17, 2016 | 10:25 pm&nbsp&nbsp&nbsp&nbsp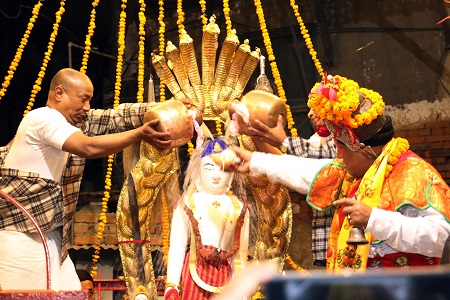 Kathmandu / January 17: The Seto Machindranath deity also known as Avalokiteśvara located at Janabahal (Machindra Bahal) of Kathmandu city was given a grand holy bath.
The bathing ceremony is an annual event taking place on Poush Shukla Astami (the eighth brighter half moon day) as per the Nepali lunar calendar.
The deity was taken out of its shrine and after a ritualistic worship of deities in ten different locations around the Seto Machindranath's shrine at Janabahal. It was then given bath in holy water brought from Nirmal pilgrimage located at Shova Bhagwati temple.
Chief Priest Asta Ratna Bajracharya held a special worship of gods and goddesses in east and west, north and south, fire, wind among others to ward off any possible hindrances to the grand holy bath.
The grand bath is followed by beautification of the deity's idol with use of colours and anointed with ointments beginning from Monday. Priest Swayambhu Ratna Bajracharya said various 10 Karma rituals are carried out after the beautification until the full moon day. On the full moon day the deity is restored back into its shrine in accompaniment of a special worship ceremony.
The living goddess Kumari was also brought to Machhindra Bahal to observe the grand holy bath of the Seto Machindranath deity.
Machindranath is worshiped as God Harihar by Hindus, Avalokiteśvara by Buddhist and Narayan by followers of Vaishnav sect of Hinduism. RSS